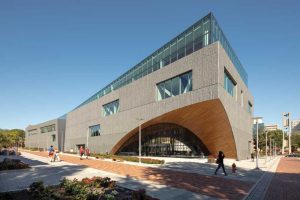 By Jason Kron
While open joint or rainscreen cladding systems have become an industry standard, many design teams overlook the opportunity of incorporating natural stone into the plan. These open joint systems gained popularity in recent years for their benefits to a building's long-term performance, with terracotta and metal being the most common selections for cladding. However, when an upscale finish or greater design freedom is desired, granite offers the ideal solution.
Stone can provide great performance with a rainscreen design, yet design teams have many questions about, how to incorporate it. Is granite too heavy for a rainscreen system? What kind of anchoring details are required? Will the stone panels remain secure? Will the rainscreen with granite remain low maintenance for years to come?
With today's rainscreen cladding systems designed specifically to incorporate natural stone, granite can provide a long-lasting and aesthetic option for building designs. By understanding the details of the systems, a team can confidently specify granite for a rainscreen.