Energy Star rating ends for roofing products due to obsolescence
June 6, 2022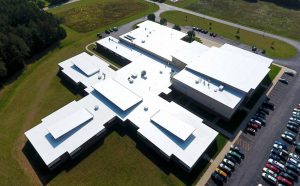 After a four-year effort, the U.S. Environmental Protection Agency (EPA) has retired the Energy Star specification for roof products.
As of June 1, no Energy Star certified roofing products are available to the market. A number of factors brought on this change, in particular the EPA's belief the existence of robust standards in the commercial sector for efficient roofs made the specification obsolete.
Brand owners must stop using the Energy Star name and Energy Star mark in association with all roofing products. To minimize the cost of labeling changes and to comply with the sunset date, the EPA suggested brand owners of roofing products remove Energy Star references on websites or in other collateral materials as these materials are reprinted or changed.
In the absence of an Energy Star specification for roofing, the CRRC-1 program is poised to takes its place as a third-party product rating system. Administered by the Cool Roof Rating Council (CRRC), this program has been in existence since 2002.
The CRRC recommends construction specifiers update any references to Energy Star with a reference to the CRRC-1 program to ensure the solar reflectance, thermal emittance, and/or solar reflectance index (SRI) values used for compliance are independently obtained, verified, and publicly accessible.
Endnotes:
[Image]: https://www.constructionspecifier.com/wp-content/uploads/2022/06/TM_EnergyStar.jpg
Source URL: https://www.constructionspecifier.com/energy-star-rating-goes-out-for-roofing-products-due-to-obsolescence/
---