by Dan Stachel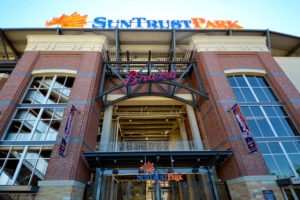 When Freddie Freeman swung at this year's home opener on April 14, he was aiming at some brand-new fences—and some state-of-the-art railings as well. The Atlanta Braves' new SunTrust Park features more than 11 km (7 mi) of decorative railing.
The stadium, located less than 32 km (20 mi) from the team's prior home—the renowned Turner Field in downtown Atlanta—has 12,497 m (41,000 ft) of railings. This means it has as many linear feet of railings as it does seats for its fans. The three-year project was completed in March by Populous and American Builders 2017, a joint venture between Brasfield & Gorrie, Mortenson Construction, Barton Malow, and New South Construction.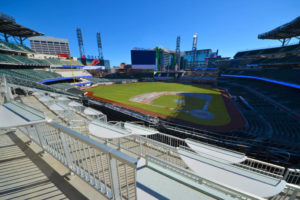 Designed with Southern hospitality in mind, the facility has plenty of space for social interaction, offering approximately 1006 m (3300 ft) of 'drink rail' that enables patrons to securely store their ballpark concessions while congregating in full view of the field. Additionally, its dining facilities—including the Delta Club Bar and Chop House, as well as areas above ('Top of the Chop') and beneath ('Below the Chop')—all feature decorative and practical railings that maintain the proper mix of décor and safety.
Safety and stability are essential properties for railings at facilities such as SunTrust. The park features roughly 1676 m (5500 ft) of 13-mm (½-in.) clear tempered laminated glass, which was selected for its unique combination of brilliance and stability.
Inside the Delta Club Bar and Home Plate Pub, visitors are treated to a more delicate railing composed of a blackened steel frame with decorative bronze cable infill. Additional touches of class can be found throughout the stadium's railing systems, such as the light-emitting diode (LED)-lit handrails on the Chop House bridge and mezzanine.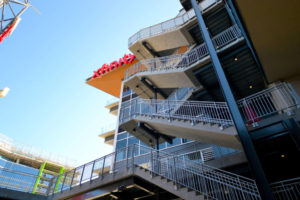 In the upper and lower bowl seating areas, box suites, and upper-level vomitories, nearly 6096 m (20,000 ft) of aluminum vertical picket and track railing affords patrons a view of the field without compromising safety. With few exceptions, railings are attached to the stadium walls or floors using rods with epoxy or weld studs to embeds or metal pans. Some aisle rails are attached to concrete stairs with the use of 'core cups,' a mounting technology enabling placement of the anodized aluminum railing via preset holes, unlike core drilling, in which holes need to be drilled after the concrete is poured.
If 'sturdy' and 'strong' can describe the players as well as the railings in their new stadium, the Braves will need to make room for a new pennant to add to the SunTrust décor.
Dan Stachel is vice president of Minneapolis-based SC Railing. He has more than 10 years of experience focusing on management of major projects, preconstruction, estimating, and sales. Stachel can be reached via e-mail at info@sc-railing.com.