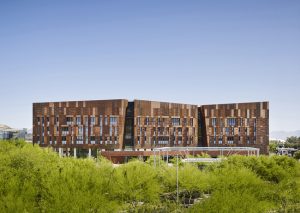 Entries are open for the 2020 North American Copper in Architecture (NACIA) awards. Architects, designers, and sheet metal contractors can submit their building projects for consideration through January 31, 2020.
Presented by the Copper Development Association (CDA) and the Canadian Copper & Brass Development Association (CCBDA), the awards will recognize excellence in the field of copper architecture, craftsmanship, and design.
To meet requirements for eligibility, the projects must be located in the United States or Canada, feature a significant application of architectural copper alloys, and completed between 2017 and 2020.
Winning projects are chosen by a panel of experts and professionals in the copper industry, and judgments are based on:
sustainable copper solutions;
green copper strategies;
copper system design;
integration of copper alloys with the overall building design;
craftsmanship of installation; and
excellence in innovation or restoration.
Visit NACIA's Call for Entries Page to learn more.