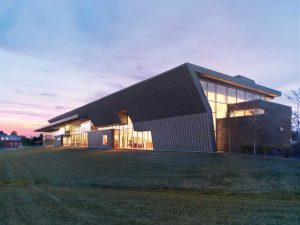 By David Thompson, PE
Design professionals often work in isolation, with each discipline (architectural, structural, mechanical, and electrical) working exclusively on their own discipline, and only getting together after they have completed most of their individual design contribution to coordinate dimensions. This approach frequently limits the amount of detailed information exchanged between the design team until the final stages of the project. Crucial data is unintentionally missed, and this can significantly affect the structural design of roof systems.
Anticipating what the structural engineer needs to consider when making design choices and how the other disciplines influence these decisions (many times without realizing it) will be addressed in this article, as well as:
How rain, snow, and wind loads are handled in the U.S. and Canada.
Historical context that influences how different loads are estimated.
Impact of decisions made by the project team which affect structural engineering outcomes.
Influences of product limitations and load capacities from manufacturers.
Information that must be included in contract structural specifications.
Weather
Roofs prevent weather from affecting the lives of people inside a building. Extreme weather events occur either when tropical storms, or for the interior of the continental U.S., large-scale system (cold or warm front), short-lived storms, or snow squalls move through an area. Short-lived storms can develop into thunderstorms, hailstorms, or tornadoes. Thunderstorms can cause extreme wind events, hailstorms, and/or tornadoes.
Codes and standards
In the U.S., building codes are a municipal responsibility. Most municipalities do not want the responsibility of developing their own code, so they rely either on the state government to develop building codes or the International Code Council (ICC). The ICC is a non-profit association focused on building safety solutions. The council is responsible for producing the International Building Code (IBC) as well. Most of the states use the IBC as a basis for their state building codes. The IBC has adopted significant portions the American Society of Civil Engineering's Standard, ASCE-7, Minimum Design Loads for Buildings and Other Structures for the structural loading requirements of buildings.