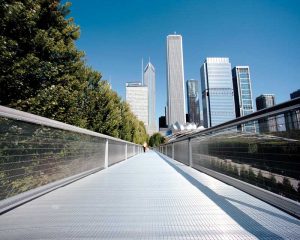 While cities occupy just three percent of global land area, they will be home to two-thirds of the world's inhabitants by 2050, according to Gensler's Aleksander Sasha Zeljic in a June 2018 interview with Architectural Products magazine. In fact, officials of New York City are beginning to re-examine its zoning to ensure green spaces and parks are accessible and equitably distributed throughout the urban landscape. This line of thinking has never been more relevant considering the current context of personal and public spaces with the recent pandemic.
Spaces using landscaping have become a matter of how to improve public health and cities are focusing incentives to create healthier public spaces are becoming even more crucial to collective health outcomes of these spaces.
Evidence of this trend in focus for healthier environments is highlighted by one of the top architectural firms: "Now more than ever, public spaces are poised to become the grand lobbies and public waiting rooms of neighborhoods and cities," says Gensler associate Michael Wagner on the company's blog. "At a time when crowds will be metered and access controlled like never before, public space is where people will spend a lot of time, waiting and doing all the things people do when they are idle." This illustrates the trend of outside spaces being the extension of the built environment.
How mid-scapes can be used as an economical productivity booster
The landscape has always been used as a design component to connect people to places, but with this new focus on the landscape as an extension of the built environment requires focused design and collaboration. Designing a healthier environment is achieved by architects and landscape designers collaborating much earlier on in the process. Architects are often looking for ways to create or enhance outdoor spaces in commercial buildings. In this prolonged pandemic environment, architects have been challenged to expand the footprint of usable space to the outdoors, a trend that is impacting all building typologies and markets including residential.
The designer's ability to create a seamless link between indoors and outdoors which make an impactful space for the users requires thoughtful planning in multiple areas: exterior design environment and use, exterior space planning. Design focus also includes healthier design of space with careful attention to plant variety and wayfinding, irrigation and maintenance, new innovations in hardscape media, and a broader selection of outdoor furniture. It also creates a new building zone called the 'mid-doors,' a term coined recently by Transsolar's Erik Olsen, in his series "What is Indoors?" for Fast Company. These spaces also provide biophilic benefits fundamental to human performance while delivering a largely flexible program rife with daylight, ventilation, and naturally filtered and humidified air.
Biophilia is defined as the innate human instinct to connect with nature and other living beings. This has been found to support cognitive function, physical health, and psychological well-being.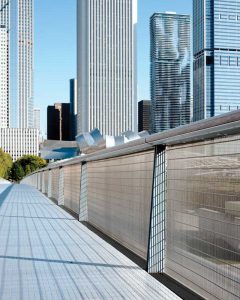 Along with iconic European multi-mode transit stations, outdoor malls and open-air markets, Olsen cites the Ford Foundation Building's atrium as a stellar example of 'mid-doors.' The Cultural Landscape Foundation (TCLF) describes the project in technical detail:
"The Ford Foundation building and atrium, completed in 1967, were the product of a collaboration between Dan Kiley and architects Kevin Roche and John Dinkeloo of Kevin Roche John Dinkeloo and Associates. The building's exterior is largely composed of glass panels, weathering steel and brown-pink granite, with the south and east façades enclosed in glass and 12 stories of office space on the north and west sides, which overlook the atrium. The glass walls create a temperate environment ideal for the atrium's subtropical garden, while also creating a seamless flow of green space between the atrium and Tudor City Park to the east.
'Kiley's landscape plan, installed on the ground floor of the 49-m (160-ft) atrium, is driven by the 4-m (13-ft) grade change between the 42nd and 43rd Street building entrances. The primary staircase connecting these entrances is broken into three sections, the landings of which access tiered garden terraces at three levels. The terraces step down to the garden's focal point, a square still-water pool edged with a wide concrete band that sits at the atrium's lowest level. The terraces were originally planted with a dozen saucer magnolias, low shrubs, and groundcovers, which were later replaced with a variety of lush subtropical plants better suited to the interior environment. Planters line the edges of the third, fourth, fifth, and 11th floors, taking the planting palette into the upper tiers of the atrium. In the mid-90s, the Ford Foundation building was named a New York City Landmark."
Human performance meets architectural performance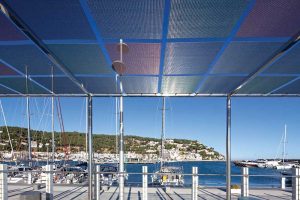 This iconic atrium at the Ford Foundation building is a great example of how using landscape caters to the human brain, which is wired to be outdoors 100 percent of the time. Research has proven the brain responds favorably to being immersed in nature, and human bodies experience less pain given a view to the outdoors, as shown in Roger Ulrich's 1984 'View Through a Window' study. Research shows as people take a biophilia break in nature, it triggers a relaxation response that is healing and increases task proficiency while stress levels decrease. "…nature makes people happier and healthier via our nontangible connections to ecosystems … the positive effects of nature on physiological health and mental health have been unequivocally documented."
Many workplace designs are catching up to innovative companies like Amazon are implementing multiple and vast pockets of mid-scapes throughout their facilities. One example of this is C3, a Gensler spec project in Los Angeles which transforms the border between an office building and a parking structure into a curated series of outdoor spaces. In environments like this, where building materials must maintain a high level of both performance and aesthetic, metal fabric is an ideal material for expanding the exterior footprint of existing buildings. In addition to its modern look and customization options, metal fabric brings performance characteristics such as daylighting ability, providing natural ventilation, and safety and security.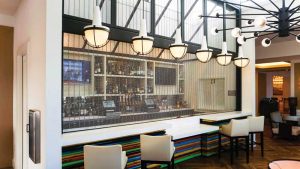 Another workplace example of mid-spaces is the project by landscape architecture and urban design firm Civitas, which designed an outdoor living room at The Hub, a 25,548-m2 (275,000-sf) mixed-use development in Denver's River North art district. The Hub South's fourth-floor terrace, coined "The Break Room," is a 1393 m2 (15,000 sf) gathering spot in this growing development. A second building, The Hub North, opened fall 2020. People working in both buildings can take indoor tasks outside to this terrace amenity with the added benefit of interacting with their environment on multiple levels. They benefit from breathing in oxygenated, naturally humidified air and are immersed in visual complexity formed by a mélange of foliage and architectural elements. The are also resonating with people, creating civic life and building social capital that contributes to resilience. Finally, basking in natural light syncs circadian rhythms to better quality sleep—the number one predictor of health outcomes, notes sustainability and well-being expert at Spring Architecture, Megan Mazzocco.
These are all aspects included in the WELL Building Standard's Light and Mind sections. A study done by ARUP shows there is a form of community resilience when tight-knit groups help one another there is rarely something that cannot be overcome.
"Research has shown in the corporate setting being outdoors is the least expensive place to invest in per square foot—it doesn't cost a lot compared to the building," says Kirt Martin, vice-president of marketing and design for Landscape Forms, a firm specializing in creating outdoor spaces. "Those spaces tend to be overlooked but are really critical to the human experience and to people."
This healthier focus incorporated into design is the most convincing for developers and urban planners. Healthier living is an easy sell for buyers and users of public space which translates to sound business case for developing and providing these types of outdoor amenities.
Value in ventilation
Using design to create value for a building; using mid-scapes creates an advantage to construction as an economical investment to the built environment, but it is not the only advantage. After first costs, mid-scapes allow for unconditioned zones that are naturally ventilated and humidified. Natural ventilation also plays a role in supporting and maintaining an improved indoor air quality (IAQ) and respiratory comfort, which all contribute to the building occupants' well-being. Reducing the conventional footprint of climate-controlled square feet by introducing mid-door spaces as unconditioned or naturally ventilated space potentially lowers operational costs by reducing the required size of a building's HVAC system. These elements also contribute to lowering the operational carbon footprint of a building.
As code and energy requirements change to help achieve building designs and operations that are closer to the ability to be net zero operationally with new building designs, there are still existing buildings around to help achieve better healthier environments for energy and occupants. Buildings are one of the largest contributors to energy usage, focusing on efficiency and health helps to achieve these changing goals.
Since some of the largest most power-intensive infrastructure focus design and operations to reach for net-zero—or at least net-zero ready—status, the benefit is two-fold. Net-zero buildings use a combination of passive technologies and renewables to keep their energy balance at zero or even net-positive. Net-zero ready buildings are wired to accept and be equipped with enough onsite renewable energy technology to off-set the building's energy demand.
First, (with mid-scape design incorporation and improvements) transit hubs may take advantage of the energy efficiency benefits of unconditioned spaces accessing natural ventilation and daylight. Secondly, access to nature and fresh air helps alleviate travel-related stressors in the built environment, such as navigating unfamiliar spaces or travel unknowns.
For example, new airport designs expanding the exterior footprint of airport operations is conscientious of enriching the passenger experience, says Gensler's Wagner. By adding ready access to the outdoors, airport design is evolving to make the passenger journey more of a semi-permeable experience. Wagner cites JFK's JetBlue Terminal 5, which weaves a new outdoor dining roof terrace into the design. In this building's application, metal mesh is a versatile, durable, and low-maintenance material that may be designed to include railings, balustrades, and gabions for rooftop lounges or restaurant terrace spaces without obstructing views. This not only increases revenue-generating hospitality space, it offers expansive views to the surrounding landscape while expanding what the airport experience can be.
Metal mesh being incorporated into the building design at fall protection on balconies and rooftops, metal mesh can secure a semi-permanent perimeter after-hours. In collaboration with security hardware, metal mesh serves as a sleek security product for elegant theft protection in retail, restaurant, and hospitality settings.
Acoustic buffers plus solar shading
According to the World Health Organization (WHO), after air pollution, noise pollution is number two in terms of adverse effects on human health. The presence of mid-scapes and an expanded outdoor footprint offers the benefit of an acoustic buffer zone. Properly designed zones create a safe and healthy setting for productivity. Properly designed foliage and metal mesh used in the expanded footprint zone (mid-scapes) could provide ample acoustic absorption. The Landscaping Network reports sound is absorbed by all parts of a plant, including leaves, branches, twigs, and wood. Similarly as a cork surface is used for absorption for interiors spaces, so the rougher the bark, and more foliage, the better vegetation absorbs airborne noise. Use broadleaf evergreens for sound absorption benefits all year around; however, selection of species is important for colder climates.
Design of wire mesh substructure for vegetation can provide exceptionally efficient absorption of high-energy sound. Metal mesh as a wall covering or partition can act as a sound absorption tool and acoustic buffer to help block exterior noise pollution. Similar structures have been used to buffer airborne noise pollution from nearby airports and highways in urban settings.
Swiss acoustic designer, Nadine Schütz, PhD, studies acoustics outdoors is studying configurations to compose a 'score' for a landscape using deflection and absorption in the form of foliage and synthetic structures. Common materials used for sound deflection barriers are fiberglass and corrugated metal but may also include stainless steel metal fabric which is particularly suited for outdoor use. Perforated metal and architectural mesh make great noise control panel walls, trellises, and curtains.
Firms like Augen Design create attractive and effective partitions out of metal mesh which design combines with acoustic to have a highly efficient sound barriers for acoustic comfort in the extended exterior footprint. Firms such as this one provide design, fabrication, and installation for all types of mid-door architectural features, such as green façades, trellises made of woven metal mesh, or perforated panels.
Overhangs and sun shading for public parks in warmer and desert regions are typically a luxury; however, they provide the public coverage from the sun and elements. Considering current health precautions encouraging social distancing and outdoor activities, the need to provide sun shading, overhangs, or other ceiling structures to hover above a defined exterior space has become a necessity for connectivity and community or family outdoor functions.
Designers are exploring new designs and inventive ways to use metal screens and mesh in a way that act as shading structures, overhang, or extensions of existing structures. Metal mesh used around the perimeter of parks, landscapes, and expanded outdoor areas keeps a subtle, semi-permeable and secure boundary while also blending unobtrusively into natural settings. Metal mesh alone may be used to create custom-designed sun shading and overhead pergolas in a variety of finishes and metal alloys.
The extension of an exterior footprint brings additional beauty and biophilia into the built environment and promotes overall comfort and health benefits. Using woven metal mesh as part of the mid-doors and to create mid-scapes provides a flexible, economical design solution. The result enhances IAQ, lowered operating costs and operational carbon, natural light and sun shading, higher cognitive performance and healing, reduced stress, and acoustic comfort in the built environment.
Metal mesh is a remarkably versatile construction material that provides an integrated solution to maintaining a healthy, sustainable, connective tissue in the design of the built environment. Using metal mesh is a beautiful and practical way to expand, define, and protect outdoor public spaces. Metal mesh construction fosters resilient environments and community resilience in any extreme climate health epidemic, or cultural landscape while delivering attractive aesthetics.
Author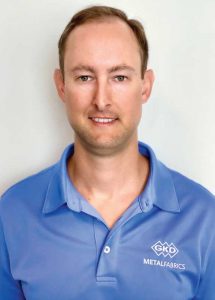 Dale Payne, P.E. serves as chief engineer for GKD-USA, a leader in metal fabrics for architectural applications, based in Cambridge, Maryland. Payne supports the GKD sales, estimating, and production departments with developing new applications as well as completing and supporting all architectural projects. He holds a professional engineering license for the State of Maryland. He earned his bachelor's degree in mechanical engineering from the University of Maryland, College Park, and his associate's degree in engineering technology from Chesapeake College. For more information about metal fabric application in architecture and design, visit www.gkdmetalfabrics.com.