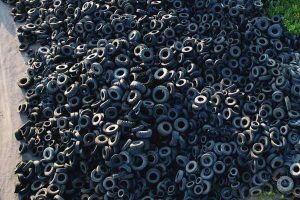 Muskegon city is working with Michigan Technological University on a pilot recycling project making use of a mix of rubber and concrete developed from more than 10,000 scrap tires to repave a part of Sherman Boulevard.
According to Michigan Live, Muskegon Assistant City Engineer Joel Brookens said while tires have been ground up previously for use in asphalt paving, this will be the first time for a city in Michigan to utilize a mix of ground up scrap tires and concrete to use on one of the five lanes of Sherman Boulevard.
After paving the lane with the new material, which will replace nearly 15 percent of the fine aggregate with the ground tire rubber, the university will perform testing to compare it to other existing lanes. The tests on the 254 mm (10-in.) thick concrete will include noise tests, and check for wear, joint performance, cracking, and freeze-thaw durability.
If the results prove to be successful, the almost 10 million tires that go to waste annually in the city will serve a novel application.
"Even as other markets for scrap tires exist and continue to grow, tire derived fuel (TDF) and rubber modified asphalt for example, the rubber modified concrete market has the potential to be larger and have a much more profound impact on the recycling of rubber tires," the city's grant application stated. "Concrete is one of the most widely used building materials and is one of the most recyclable materials used in construction. If it can be proven that adding rubber to concrete creates a more durable concrete with (the) same costs, it could become a normal additive to any concrete application."
The application also mentioned Michigan Tech's past collaboration with General Motors to test the concrete/tire mix at its Milford Proving Ground.
The project recently gained state funding worth $318,344 in the form of a scrap tire market development grant. The total cost of the project is estimated at $1.3 million.