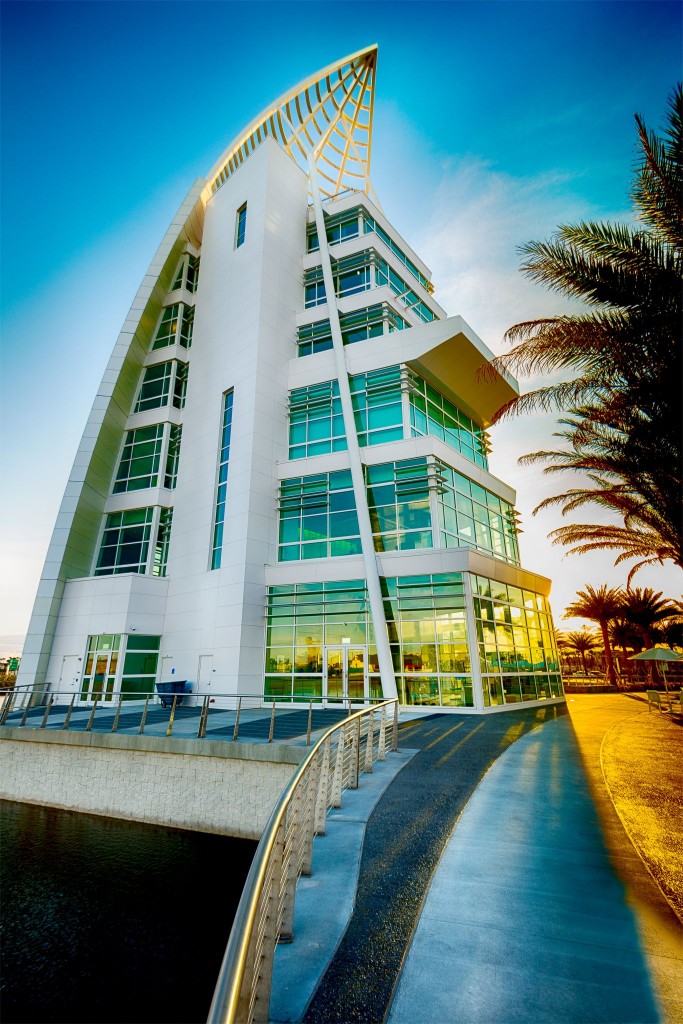 by Tammy Schroeder
With its shimmering, iridescent exterior, Exploration Tower at Florida's Port Canaveral beckons visitors to one of the world's busiest cruise hubs with its unique appearance as its color changes in different light and at different angles. Opened in November 2013, this soon-to-be-iconic welcome center showcases the first use of a new type of mica coating on the building's exterior metal cladding.
An integral part of Florida's Space Coast and Canaveral Cove's revitalization, Exploration Tower is owned by Canaveral Port Authority. Its opening coincided with the Port's 60th anniversary of its establishment, and the 500th anniversary of Ponce de Leon's landing on Florida's east coast.
Taking its cues from the shapes and hues of the port, GWWO Inc./Architects designed the $23-million, seven-story, sail-shaped structure to express the common characteristics of "transience, function, and imagery." (Other members of the design team included AECOM [master planning] and Thornton Tomasetti [structural engineering].) The building's southern elevation soars from the water to the sky. It narrows in scale and reduces its exterior coverage until only the steel frame remains to outline the curvature and comes together at a peak of 18.3 m (60 ft) above the main roof level.
Skanska USA served as the general contractor of the 2137-m2 (23,000-sf) project. The subcontractor responsible for the exterior metal façades and wall system, Kenpat USA, worked closely with the manufacturer that engineered and fabricated the aluminum panels. Another firm provided both the curved structural framing and the 3-D building information modeling (BIM) to coordinate the connection points for each panel in the building's parabolic curve. In total, Kenpat installed 42 pre-fabricated structural panelized units as sub-structure for the cladding, with the largest being 11 x 3.1 m (36 x10 ft).
According to the architects, the building's form—sun louvers, exposed structure, and iridescent skin—contribute to a constant sense of movement as the sun plays across the structure. It also meets functional needs, and evokes imagery of Port Canaveral and surrounding Brevard County: a rocket ready to launch, a surfboard in the sand, a ship's hull, and a rocket contrail.
Canaveral Port Authority's senior director of construction and infrastructure, David Perley, AIC/CPE, elaborated.
"The Port Canaveral Team, along with our designer, GWWO, wanted a building with a finish that reflects the transient nature of the Port," he said. "Everything here at the Port is constantly changing—what better way to express change than through the finish of our new Exploration Tower?"
Choosing the coatings
GWWO selected a custom color-changing paint to capture the themes of revitalization and change it sought to represent the Port Canaveral area. Spray-applied to metal wall panels, the coating uses mica flakes to create a consistent, iridescent look. It employs a blend of ceramic and inorganic pigments for its 'rich' look.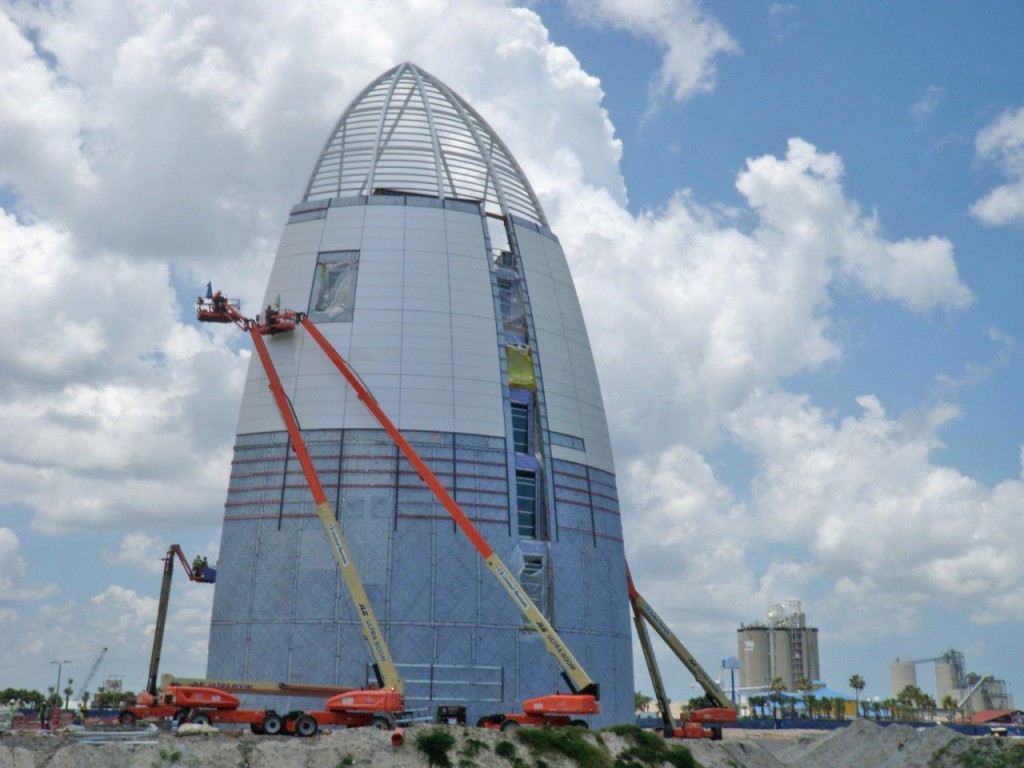 The color-changing quality is caused by the way visible light reflects off the mica flakes. The reflective property of the mica flakes means the painted surface will look differently depending on the viewing angle, and the intensity and angle of the light source (e.g. the sun).
Along with its unique appearance, the finish must withstand Florida's hurricane wind speeds, unrelenting sun, and salt spray. The color-changing mica coating offers the same protection as other 70 percent polyvinylidene fluoride (PVDF) high-performance, resin-based architectural coatings (explored later in this article).
The 70 percent PVDF coating for Exploration Tower's exterior wall panels was applied as a three-coat system consisting of a primer, basecoat, and color coat. A clear coat was also applied over top for enhanced durability.
As this coating system was new, there was some trial and error during the application process. It was critical each paint run maintain the same parameters, so the spray conditions, paint preparation, and application conformity were all extremely important. The slightest change could alter the final look.
To ensure consistency and minimize variation, the finisher for Port Exploration Tower's metal cladding and curtain wall assemblies modified its existing paint protocol process. The amount of paint needed for the entire project was determined and ordered as a single batch at the beginning of the project. The special mica technology was prepared all at one time with excellent consistency, taking out the variable of multiple paint batches. The entire project was painted in four phases, starting in March 2013 and ending in May.
In addition to the color-changing mica finish on southern seaside elevation, a 70 percent PVDF white coating was also applied to the northern elevation's aluminum-framed—and hurricane-rated—curtain wall that offered views of the bustling port.
As with other 70 percent PVDF coatings, the white and color-changing mica paints used on Exploration Tower meet the most stringent, exterior, architectural standard: American Architectural Manufacturers Association (AAMA) 2605, Voluntary Specification for Performance Requirements and Test Procedures for Superior Performing Organic Coatings on Aluminum Extrusions and Panels. This specification requires paint coatings to meet rigorous testing performance standards, including heat- and humidity-resistance and more than 2000 hours of cyclic corrosion per Annex 5 of ASTM G85, Standard Practice for Modified Salt Spray (Fog) Testing. Per AAMA 2605, the coating also must maintain its film integrity, color retention, chalk resistance, gloss retention, and erosion resistance properties for a minimum of 10 years on the South Florida testing site.
Coatings selection
Whether the project is a landmark in Port Canaveral or a more typical office building, specifying paints for architectural aluminum products requires careful consideration. It is important to remember to review performance strengths and limitations, composition and sustainability, specification standards, warranty, and maintenance practices with respect to the project's unique application, location, and function.

Architects and building owners should determine which performance specification is required, along with the paint color. In order to ensure the paint performance expected for a given application, one of three standards should be referenced:
AAMA 2603, Voluntary Specification for Performance Requirements and Test Procedures for Pigmented Organic Coatings on Aluminum Extrusions and Panels;
AAMA 2604, Voluntary Specification for Performance Requirements and Test Procedures for High-performance Organic Coatings on Aluminum Extrusions and Panels; or
AAMA 2605—the one used for the Port Canaveral project.
These three specifications apply to progressively stronger levels as indicated by South Florida outdoor exposure and laboratory accelerated testing results as shown in Figure 1.
Strengths and limitations
A particular coating's strengths can come down to several variables. Some include:
color retention (i.e. ultraviolet [UV] resistance)—AAMA 2605 specifies that paints show no more than 5?E color-fade in 10 years of exposure;
salt-spray resistance—AAMA 2605 specifies paints resist up to 4000 hours of accelerated salt spray testing;
vast array of color choices;
protects and maintains the aluminum's structural integrity;1
small-batch and custom color capabilities that allow maintenance to be fast and cost-effective.
Possible limitations to consider include:
fair hardness;2
cost of high-performance products (pricing typically increases with stringency and weathering performance—in other words, paints specified to meet AAMA 2603 tend to be less costly than those to meet AAMA 2605); and
potential for inconsistent appearance of 'metallic' paints.
Further to this last point, a consistent, random orientation of metallic and mica flakes produces uniform color and brightness. To achieve perfectly random flake orientation, many variables need to be managed in a spray-application process. These variables include:
different part geometries;
electrostatic/grounding effects;
fluid pressures;
paint-to-part distances;
overlapping spray areas; and
supplemental hand-spray to reach recessed or corner areas.
Solvent-based paints may not be considered environmentally sustainable without an oxidizer. The primary environmental concern with liquid paints is the solvents used to deliver the paint to the part; some of the solvents used are considered volatile organic compound (VOC) content and must be destroyed. VOC content, when released directly into the atmosphere, has been known as a contributor to ozone depletion. However, environmentally conscious finishers use a 100 percent air-capture system and destroy the VOCs with a regenerative thermal oxidizer, so there is no adverse environmental impact.
Composition
The exact composition of a particular paint coating often is complex and proprietary. In general, paints contain resins, pigments, reducers, and additives. A typical gallon of paint is 10 percent pigment, 20 percent resin, and 70 percent solvent (i.e. reducers and additives).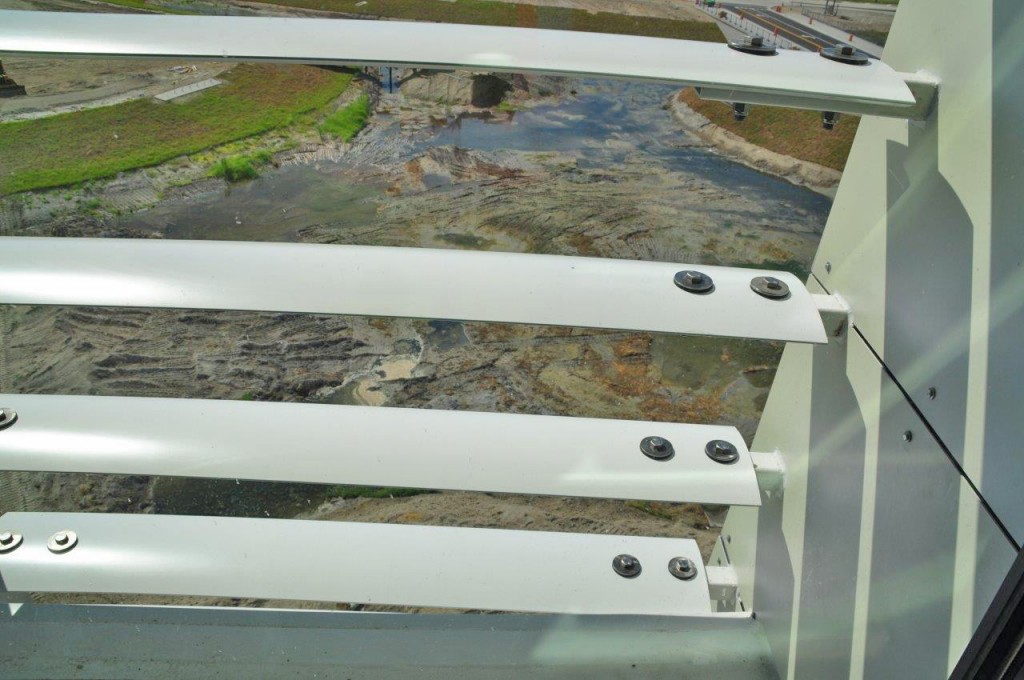 Resins are the compounds in the paint that form the film and hold the pigment in place. The resin system incorporated into the paint is the determining factor in the specific characteristics and performance properties. In the architectural industry, two primary resin systems are involved in refinishing of metals: fluoropolymer-based (i.e. the aforementioned PVDF) or 'baked enamel' type, which is usually composed of acrylic or polyester resins. It is not uncommon for a coating to contain several resins, which help the coating perform to specific requirements.
Pigments are the material added to the paint to give it color, or to enhance certain physical properties of the coating. These are selected based on physical needs, durability, gloss, colorfastness, and chemical exposure. Pigments are both naturally occurring, as well as synthetic.
Reducers are used to serve different purposes. Using an active solvent reduces the viscosity, allowing the coating to be sprayed. Once on the substrate, the solvent evaporates and leaves the painted film. Volatile components can be solvents, waterborne (i.e. water-based and water-reducible), and 100 percent solids. Diluent solvent is used to extend a solution, but weakens the active solvent's power. Thinner solvent can extend a solution, but does not impair the power of the active solvent.
Additives and fillers, meanwhile, are usually individualized to paint type and specification. These are used in small amounts to thicken the paint. They also can provide a wide range of modifications to the composition of the film and the film properties, such as enhancing gloss and hardness. Other characteristics may include improving flow properties, finish, or paint stability to UV exposure. Further, they can provide a non-stick surface to the paint film or anti-graffiti capabilities.
After the paint is applied, different types of curing systems include air dry, air dry/force dry, bake/cure, catalyzed, and radiation.
Warranty explanations
For aluminum coatings, the design professional should carefully review warranty explanations offered by the paint manufacturer and finisher. For example, if adhesion is going to fail, it will typically fail in the first year of its service life, and the warranty will cover the issue. When the adhesion is good from the start, it rarely fails during the service life of the finish.
It is also important to remember 'gloss' is the reflectance of the paint or anodize finish, and is measured on a scale from 0 to 100 units. 'Zero' gloss is completely flat, absorbing all light, while 100 gloss reflects all light back. All finishes will lose gloss over time, but some will lose faster than others.
Chalk is a 'breakdown,' typically caused by intense UV rays, of the resin system of the paint itself. Chalk occurs when conditions cause degradation of the resin system, as the resin breaks down it takes on a whitish, chalky appearance.
The leaching or oxidizing of pigment is known as 'fade.' Like chalking, fading also is caused by intense UV radiation. All pigments will fade over time, but the degree to which they fade depends on several properties. Aluminum finishes that have a high resistance to fading have a low Delta E reading.
Unless a particular project is in an extreme environment, one should expect a high-quality, high-performance finish to last several years beyond, and in some cases multiples of, the warranty period.
However, it is important to remember paint manufacturers and finishers do not have control of maintenance, location, or use. For this reason, warranties cannot be issued beyond a 'guaranteed service-life' timeframe in the most extreme environments.
Maintenance
To maintain the original beauty of finished architectural aluminum products, occasional cleaning is required on even the most highly durable finishes. One should select mild soap solutions that are safe for use with bare hands, such as those products typically employed to wash a car. Strong acid or alkali cleaners could damage the finish, as can abrasive materials such as steel wool or brushes.
Solvents no stronger than mineral spirits or denatured alcohol may be used to remove grease, sealants, or other materials. Cleaners or solvents should never be combined, as the resultant mixture can cause harmful or even dangerous results. Once heavy soil, grease, or sealant is removed, the mild soap solution should be applied with a soft cloth, sponge, or soft brush. The surface must be thoroughly rinsed with clean water and dried with a soft cloth. In coastal areas (where the finish is exposed to salt spray), or in locations containing heavy industrial pollutants, the cleaning should take place on a regular basis.
Conclusion
Specifying unique finishes for architectural aluminum products in harsh climates can be done with confidence when working in close collaboration with manufacturers and finishers to achieve the performance requirements and the desired, dynamic appearance. Exploration Tower at Florida's Port Canaveral serves as a striking, color-changing case in point.
Notes
1 With its inherent corrosion resistance, aluminum's ability to maintain structural integrity is well-documented. High-performance paint enhances this durability and aesthetic, extending the lifespan of these products. (back to top)
2 Also known as 'pencil hardness,' this correlates to abrasion resistance of the dry finish. AAMA specifications refer to ASTM D3363, Standard Test Method for Film Hardness by Pencil Test. The harder a finish, the more resistant it is to scratches and abrasions. Anodize Class I finishes have excellent hardness. (back to top)
Tammy Schroeder, LEED Green Associate, is a senior marketing specialist at Linetec. She has more than a decade of experience working with architectural aluminum products and finishes. She also develops the company's American Institute of Architects/Continuing Education System (AIA/CES) programs, and serves on the American Architectural Manufacturers Association's (AAMA's) Tactical Marketing Plan Group and Value Proposition Work Group committees. She can be reached at tammy@linetec.com.