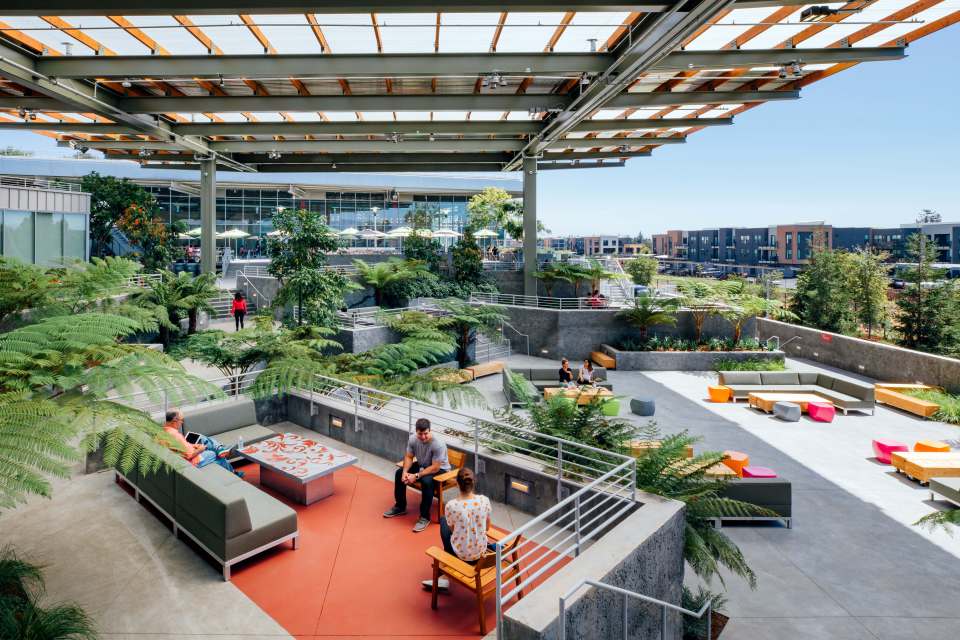 Facebook has expanded its headquarters in Menlo Park, California, with a new building called MPK 21.
Designed by Frank Gehry and built in less than 18 months, MPK 21 is a sustainable building with a 14,569 m2 (3.6-acre) rooftop garden featuring more than 200 trees and a half-mile meandering pathway.
It includes a sheltered green space carrying 12-meter-tall (40 ft) redwood trees dubbed the Town Square and an amphitheater-style courtyard called The Bowl connecting MPK 21 with another Gehry-designed building, MPK 20.
Inside the new addition is an open workspace with a single pathway running the length of the building. The pathway includes five dining options, 15 art installations commissioned through the Artist in Residence Program, and a 2,000-person event and meeting space with A/V technology.
The building encourages active engagement with pedestrian walkways, access to various outdoor areas, visible stairways, and flexible workstations. The physical infrastructure is designed to reduce water, energy, and waste with a reclaimed water system that recycles and filters MPK21's water, saving approximately 64 million liters (17 million gallons) of water annually.
The roof includes 1.4 MW of photovoltaic solar panels, which will generate nearly 2 million kWh of electricity each year. Additionally, bird-friendly glazing allows for clear views and natural daylighting, which reduces the need for artificial lighting during daylight hours. Finally, Facebook enrolled in Peninsula Clean Energy's ECO100 energy option to reduce its carbon footprint, helping Menlo Park reach its climate action goals. The building is also designed to achieve Leadership in Energy and Environmental Design (LEED) Platinum certification through the U.S. Green Building Council.
In the next year Facebook plans to complete a two-acre park with a public plaza and event space, that can host Facebook Festivals, mobile farmers' markets, and other local programs. The project will include a community bike and pedestrian bridge over the Bayfront Expressway.
Facebook is also working on another expansion project called Willow Village, an integrated, mixed-use village to provide services, housing, and transit solutions as well as office space to Menlo Park.