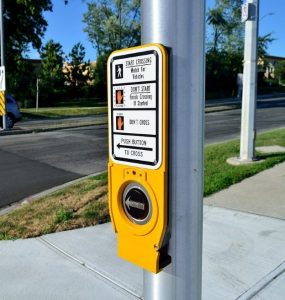 A Federal court has ruled that New York City's failure to provide accessible pedestrian signals (APS) at 96.6 percent of its signalized intersections violates the civil rights of people with disabilities.
APS are push-button devices attached to crosswalks that convey visual crossing information in audible and vibro-tactile formats accessible to blind, low-vision, and Deaf-blind pedestrians.
New York City has over 13,200 signalized intersections with signals for sighted pedestrians that convey critical safety information: WALK or DON'T WALK. Yet only 443 of those 13,200 intersections—less than four percent—have APS conveying this information to blind people.
The Disability Rights Advocates (DRA) filed a class action lawsuit, American Council of the Blind of New York, et al. v. New York City, in June 2018 because NYC's unlawful system denies blind and low-vision pedestrians their independence to navigate city streets safely. On July 22, 2019, the court certified a class of blind and low-vision pedestrians harmed by these practices.
"For decades New York City has ignored the needs of blind and low vision pedestrians, while simultaneously touting its Vision Zero commitments to pedestrian safety," said Torie Atkinson, staff attorney at DRA. "The city has spent millions on pedestrian safety improvements, and now for the first time, those improvements will be accessible to all New Yorkers. With accessible pedestrian signals, blind and low-vision pedestrians can cross the street confidently, and we are thrilled with the dramatic changes that this victory will mean not only for those who are blind or low vision, but for all New Yorkers who want safer streets."