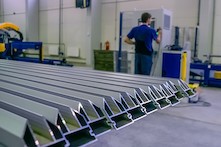 The Fenestration and Glazing Industry Alliance (FGIA) has released an updated specification describing test procedures and requirements for architectural quality aluminum oxide coatings applied to aluminum extrusions and panels for architectural products.
AAMA 611, Voluntary Specification for Anodized Architectural Aluminum, is now available for architects and other construction experts. This document, which covers anodized finishes produced in bath or continuous coil, was last updated in 2014.
"The anodic coatings and voluntary specification of anodized architectural aluminum is used by architects to determine the use of these specifications to specific projects. In updating this FGIA specification, there was a lot of focus to update the abrasion resistance and corrosion resistance specification from the previous version. This update follows some of the previous updates to the other coatings for aluminum substrates, such as AAMA 2603, 2604, and 2605," said Carl Troiano, chair of the FGIA's Aluminum Material Council (AMC) finishes committee.
This guideline will permit the architect, owner, and contractor to specify and obtain anodized aluminum finishes which will provide, with periodic maintenance, a superior level of performance in terms of film integrity, exterior weather ability, and general appearance for many years.