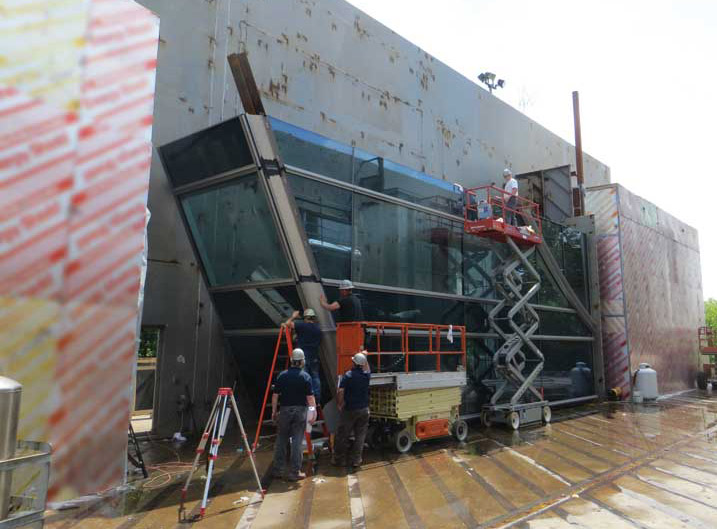 by Daniel Clark and Eric Olson, PE
What are the risks involved with enclosure design and how can owners and designers help mitigate them? How does one verify compliance with specified performance requirements, especially for critical elements intended to protect the building from the outdoor environment? Is the design constructible? How can owners, designers, and contractors know they have the correct materials, a functioning assembly, and proper workmanship? When is testing appropriate and cost effective? When should tests be conducted? What is the difference between mockup and compliance tests? The enclosure performance mockup process is a fundamental part of answering these questions.
Mockups can be constructed offsite, onsite, or in-situ, and depending on the scope, specifiers may include more than one of these options. Traditionally, large-scale, offsite mockups are used in new designs when employing systems not previously tested or when combining multiple components together to form an assembly. Onsite mockups are typically smaller, centered around visual approvals and verifying constructability, which, in turn, will be used as a benchmark through the construction phase. Performance testing can be incorporated into an onsite mockup, though traditionally, it is limited to compliance testing. In-situ mockups are similar to onsite with the benefit of being incorporated into the permanent construction. However, in-situ mockups are primarily useful for trade coordination, as major design changes cannot be incorporated at this stage. This article focuses on considerations for testing related to a performance mockup.
A simple concept, a performance mockup is essentially a prototype of the building façade design—a small section of the façade, constructed in a laboratory, as a freestanding wall section on the jobsite, or on the building itself, and subjected to inspection and testing to verify constructability and important performance characteristics—such as structural performance, air and water intrusion resistance, material adhesion and compatibility—and construction detailing and conflict avoidance. Construction of the mockup should be collaborative, with the designer, contractor, manufacturers, and trades working together to arrive at an optimal and functional solution. Once completed, the mockup serves to establish the technical, quality, and aesthetic standards for the project.
Specifying a mockup and suitable testing program can be confusing, with numerous available tests and approaches. The American Architectural Manufacturers Association (AAMA) 501, Methods of Test for Exterior Wall, is the standard guide for most performance mockup testing. Designers, contractors, and owners are not always clear on (or often cannot agree on) what testing to include, why it is applicable, the appropriate performance criteria, or whether the testing is worth the cost and schedule impacts. As a result, testing programs may be misguided or fall short of expectations, causing frustration and schedule delays.