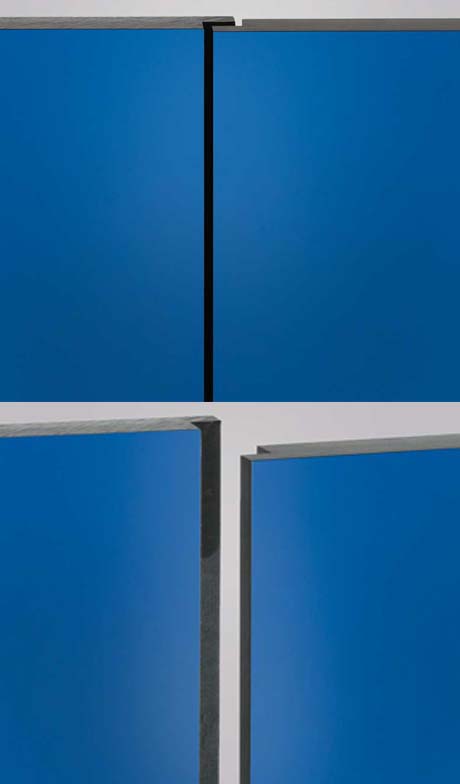 Selecting a material
Each partition material has unique advantages and disadvantages, depending on the building application.
Painted metal and stainless steel have honeycomb cardboard cores and feature wide availability and low cost—although stainless steel is typically the costlier option. Both materials qualify as class-A interior wall finishes under IBC and are more prone to rusting, dents, scratches, and odor absorption than other options. Graffiti is also more difficult to remove from painted metal partitions. Painted metal and stainless steel partitions typically have a limited warranty.
The advantages of HPL partitions include extensive color and pattern options and improved graffiti, scratch, and dent resistance, although deep scratches can expose dark kraft paper, which may absorb odors and/or swell when exposed to excessive moisture. HPL partitions also have visible brown or black edges. They are relatively inexpensive and can obtain a class-B interior wall finish classification under IBC. Special laminates may increase costs and lead time, and come with a limited warranty.
Since CL partitions are water-resistant, they can be 'hosed down' for cleaning. They also feature dent-, scratch-, and graffiti-resistance. They are available in a wide variety of colors and can achieve ICC class-A or B interior wall finish classification.
Advantages of HDPE toilet partitions include factors like their homogeneous color, which allows for gouges and scratches to simply be sanded out. Like CL partitions, the material is water-resistant for easy cleaning. These partitions also have high recycled content and come with an extended warranty. However, graffiti tends to 'ghost' into HDPE and cannot be fully removed. This is also the softest of the materials, and can easily be scratched and dented.
SCRC has a homogeneous color as well, allowing for similar benefits as HDPE. Its surface is highly resistant to graffiti, scratches and dents, and water damage. SCRC can achieve ICC class-B interior wall finish classification. These toilet partitions are available in limited colors and are more expensive than HDPE partitions.
Hardware and mounting considerations
Partition durability, aesthetics, and privacy level are all highly influenced by the hardware and mounting configuration used. Typically, aluminum and stainless steel hardware are more durable and expensive—however, in product life cycle cost evaluations, less durable and expensive hardware will typically increase long-term costs.
The most durable hardware configuration—and the most private option—is full-height institutional hardware, which features full-height hinge and attachment brackets, as well as reduced sight gaps. Specifying less durable hardware to reduce cost—particularly in heavy-traffic, vandal-prone bathrooms—can quickly result in failure of the partition. When a clean, flush front is desired, concealed hardware can also be specified.
The specified mounting configuration of a partition affects not only the level of privacy, but also the system's durability, aesthetics, and maintenance.
Overhead-braced mounting offers the sturdiest configuration at a budget price, with two attachment points at the stiles. Floor- and ceiling-anchored configurations (also with two attachment points) are typically specified for aesthetic reasons, and feature comparable durability to overhead-braced partitions at a slightly higher price point. Floor-anchored mounting is often specified for aesthetics, but when used with a single attachment point, the partitions have to be anchored into a solid base substrate. Floor-anchored mounting should only be specified in low-traffic, non-vandal prone bathrooms.
Ceiling-hung mounting is often preferred by custodians, as it reduces cleaning time due to the lack of a floor attachment. This configuration is not recommended for high-traffic or vandal-prone bathrooms—if a vandal applies pressure to the bottom, partitions may wobble, doors may open and in extreme cases, the partition or hardware may break.
ADA compliance
Accessible toilet compartments—required in all public restrooms—must adhere to ADA standards. Currently, two basic toilet compartment designs are named and outlined—the wheelchair-accessible toilet compartment and the ambulatory-accessible toilet compartment. A third variant is the large wheelchair-accessible toilet compartment.