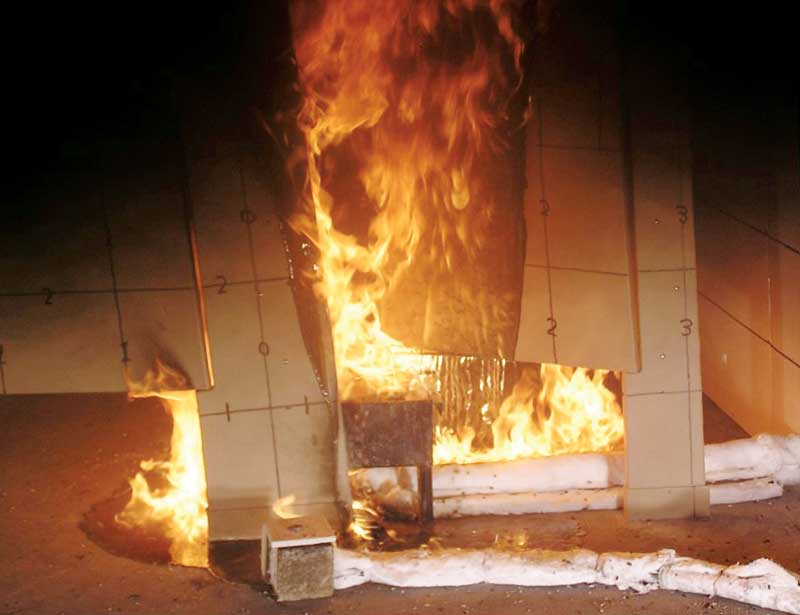 Fire code considerations
In the United States, model codes and standards pertaining to fire safety and construction are regulated by the International Code Council (ICC) and the National Fire Protection Association (NFPA). While not mandatory until adopted by city, county, state, and federal government jurisdictions, adherence to these codes is often critical, as many major corporations require compliance regardless of any governmental policy. Facilities considering renovating their restrooms with newer privacy partitions—particularly those who have not renovated in a decade or longer—should consider the most recent revisions to these codes, to maintain compliance and safe environments for occupants.
Most relevant to the specification of partitions today are the International Building Code (IBC), International Fire Code (IFC), NFPA 101, Life Safety Code, and NFPA 1, Fire Code. As of 2006, the model codes written by both ICC and NFPA clearly regulate toilet room privacy partitions as an interior finish. This is an important distinction—in recent years, some jurisdictions have interpreted fire and building code requirements for interior finish as being unrelated to restroom privacy partitions. Although these standards are not currently regulation or law in several jurisdictions, prudent architects and specifiers should adhere to them.
A number of standard toilet partition materials are acceptable under these standards, namely those that are neither polypropylene (PP) nor high-density polyethylene (HDPE). These varieties include stainless steel, painted metal, high-pressure laminate (HPL), compact laminate (CL)—also known as solid phenolic core—color-through-solid phenolic, and solid-color, reinforced composite (SCRC). When used as toilet partitions, these materials also require testing in accordance and compliance with ASTM E84, Standard Test Method for Surface Burning Characteristics of Building Materials, or UL 723, Standard for Test for Surface Burning Characteristics of Building Materials. Alternatively, they may be in accordance and in compliance with the room-corner test in NFPA 286, Standard Methods of Fire Tests for Evaluating Contribution of Wall and Ceiling Interior Finish to Room Fire Growth.
For certain plastics, such as PP and HDPE, ASTM E84 is no longer considered the best method for testing—NFPA 286 is preferred. Thus, all four codes require interior finishes using PP or HDPE be tested in accordance with the NFPA 286 room-corner test.
Architects, interior designers, specifiers, and contractors should always request complete ASTM E84, UL 723, or NFPA 286 room-corner test compliance documents from HPL, CL, and SCRC toilet partition manufacturers. It is also important to insist on unmodified NFPA 286 room-corner test compliance documentation from PP and HDPE toilet partition manufacturers prior to specification or purchase.
Building type considerations
The building type can help form a baseline for choosing a partition design, depending on whether the facility is prestige, standard-use, or heavy-traffic.
Prestige buildings have moderate to low traffic flow, with minimal use and abuse. In these facilities, architectural design and quality materials and equipment should be prioritized. These types of buildings include corporate headquarters, class-A office projects, civic centers, and major universities.
Standard-use buildings have moderate to heavy traffic and moderate to heavy incidence of vandalism, and specification is typically price-driven. Such buildings include commercial office facilities, healthcare centers, hospitality projects, and manufacturing plants.
Finally, heavy-traffic buildings can mean a possible high incidence of vandalism. Where heavy traffic and problems of vandalism exist, heavy-traffic occupancy must first be considered in the design, overriding the prestige and standard-use models. Heavy-traffic buildings include K–12 schools, shopping malls, amusement and recreation facilities, and transportation centers.