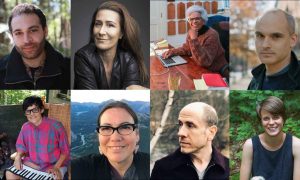 Charlotte Algie, Cecil Howell, Ryan Ludwig, Gregory Melitonov, and Mark Shepard along with 74 artists have been named as MacDowell Colony Fellows. The incoming Fellows represent seven artistic disciplines and will arrive from places such as Nigeria, Mexico, and Hong Kong, as well as Oregon, Texas, and North Carolina. The fellowships are for upcoming fall residencies at one of the nation's leading contemporary arts organizations.
This group of MacDowell Fellows includes Tony Award-winning composer Jeanine Tesori, Pulitzer Prize in Drama finalist Sarah DeLappe, Grawemeyer Award-winner Sebastian Currier, industrial-pop composer Olin Caprison, recording artist and actor Jibz Cameron, Pulitzer Prize in Fiction finalist Hernan Diaz, award-winning historian Nell Painter, journalists Noah Sneider and Jeff Sharlet, and visual artists Clarity Haynes, Pamela Council, and Anna Hepler.
"MacDowell is honored to provide time and space at our bucolic property for these remarkable individuals to investigate, imagine, and create new works of art," says executive director Philip Himberg. "They represent a wide and diverse range of artistic voices, reflecting a truly diverse landscape of art makers in our country and across the globe."
These highly competitive fellowships, each with an average value of more than $10,000, were awarded from a pool of 676 applications received by the most recent of MacDowell's three annual deadlines. A panel of distinguished professionals in each discipline selects fellows based solely on their talent as evidenced by a work sample and project description. While at MacDowell, fellows are provided a private studio and accommodations for a period of up to eight weeks and three meals a day.
Fellows make use of uninterrupted time to work and enjoy the rare opportunity for multidisciplinary exchange. Artists with demonstrated financial need are eligible for travel grants and stipends to cover expenses that accrue at home while away at a residency. The MacDowell Colony awards more than 300 fellowships each year. The next application deadline is January 15, 2020, for the summer 2020 residency period.