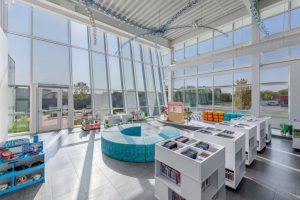 The new Reby Cary Youth Library in Fort Worth, Texas, has been completely transformed by KAI Architects to accommodate children's educational needs.
The 743 m2 (8000 sf) library includes a large outdoor sensory garden, multiple study rooms, and a maker space which utilizes technology for creative activities. The installation is made up of over 20,000 glass marbles and cascading LED lights. Visitors can manipulate the artwork's lighted colors and patterns through the touch of a button and sensor points distributed throughout the library.
KAI's team immersed itself into the community to gather public input, in an effort to blend the building with the historical elements of the surrounding neighborhood. In addition to providing architectural and interior design services, KAI also coordinated the civil, landscape, engineering, fire protection, audio-visual, lighting, technology, and cost-estimating services through various teaming partners.
KAI worked closely with Creative Machines to originate an interactive public art installation suspended from the ceiling called "Only Connect."
As the first Fort Worth public library designed specifically for children, teens, and their caregivers, the $5.49 million library officially opened on August 14 to much fanfare. Special guests at the ribbon cutting included mayor Mattie Parker, District 8 city councilman Chris Nettles, library director Manya Shorr, and former city council member Kelly Allen Gray. Faith Ellis, daughter of the library's namesake—local African American educator Reby Cary—also participated in the ceremony.