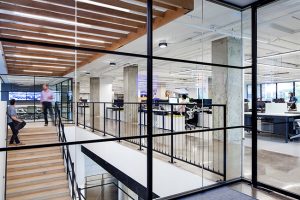 FOX Architects, an architecture and interior design firm based in Washington, D.C., has announced changes to its management.
The founder of the firm Bob Fox, AIA, IIDA, will transition from managing principal to chairman of the company's new advisory board. Current principal Derek Wood, AIA, will become the managing principal. Principals Andy Yeh, Assoc. AIA, JP Spickler, FAIA, and Jim Allegro, AIA, will have increased roles and responsibilities.
Fox will focus on building the firm to design more complex and fully integrated projects and also on growing its capacity and reach.
Wood will oversee the day-to-day management of the firm, execute FOX Architects' strategic plan, and ensure the company's long-term goals are met.
The firm's new advisory board will include approximately eight industry leaders, each bringing specific expertise in business growth valuation, diversity, law, marketing, venture capital, and former clients.
The titles will formally change in January 2020.