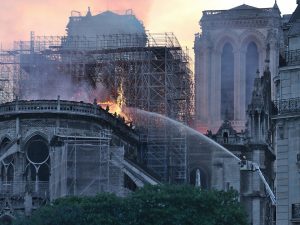 France's Prime Minister Édouard Philippe has announced an international architectural competition to redesign the roofline of the Notre Dame Cathedral in Paris after a massive fire destroyed the oak-beamed structure and collapsed its spire.
The spire, added during a 19th century renovation of the more than 850-year-old cathedral, collapsed early into the blaze that consumed the Gothic landmark on the evening of Monday, April 15.
The 91-m (300-ft) spire, made of wood and lead, had been the center of long-running restoration work on the cathedral. It was being strengthened because the lead on the base had thinned over time, making the structure more fragile.
Philippe said the competition would give the cathedral "a spire suited to the techniques and challenges of our time." He said an estimation of the cost of rebuilding the cathedral had yet to be made. French billionaires, multinationals, and private citizens have so far raised €880m for the restoration, the Guardian reports.
French President Emmanuel Macron promised the nation on Tuesday, April 16, the Notre Dame would be rebuilt—and be "more beautiful than before"—within five years, a timetable many experts consider impossible.
After police reviewed a cache of amateur video and photos from local residences, investigators believe the fire started at the center of the cathedral's roof toward the base of the iconic spiral, a police source told CNN.
The police source also told CNN investigators are focusing on two potential problems relating to the outbreak of the fire. One issue under investigation is a possible problem with the fire alarm system sensors.
Investigators' second line of inquiry, the source said, relates to the elevators that were built for the construction workers. The source provided no additional details on that.