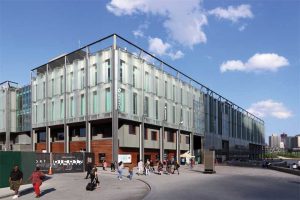 Significant change is coming to new construction projects in New York City. Last December, the city lawmakers adopted legislation requiring bird-friendly glass on new construction and all major renovations. The goal is to reduce the number of bird fatalities from accidental collisions with the transparent building skins.
New York City is not alone. Several others have already established bird-friendly construction standards. The American Bird Conservancy (ABC), the pre-eminent authority on bird-friendly architecture, is also advocating a bill to enact nationwide bird-friendly guidelines for federal buildings.
Birds see the world differently from humans. A beautiful glass structure or a window, to birds simply seems like an unobstructed opening they can fly through. They perceive glass reflections as open skies, trees, or gardens, which are normally safe areas to fly toward at full speed.
In this case, however, they are not—and the results are usually deadly. Accidental bird strikes are jarring for building occupants and disastrous for the birds themselves. The solution is architectural glass designed specifically to work with avian eyesight, making it more readily recognizable as a solid obstacle.
In the latest edition of a series of free, downloadable e-books, an article from the pages of The Construction Specifier explains the importance of bird-friendly glass. To get your copy of Designing with Glass, in either pdf or digital edition, visit www.constructionspecifier.com/ebook/agc-glass-north-america-designing-with-glass-e-book.