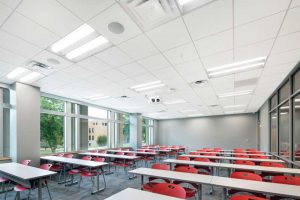 Standards now require high-performance sound absorption overhead inside many building types. Understanding the acoustic requirements within the building standards and translating those correctly into a project's written specification is only the first step. One should also understand other potential impacts on the building design to ensure the occupied building sounds good overall when completed.
Section 11.5.4. of the new American National Standards Institute/Green Building Initiative (ANSI/GBI 01-2019), Green Globes Assessment Protocol for Commercial Buildings, contains sound absorption requirements for various rooms in office buildings, schools, and healthcare facilities. There are two compliance paths: one being minimum ceiling noise reduction coefficient (NRC) and the other is maximum reverberation time (RT). Patient care areas in healthcare facilities and resident care areas in senior living facilities are required to have ceilings with a minimum NRC of 0.90, or if a portion of the absorption is provided on the walls and floor, a maximum RT of 0.50 seconds. In this example, writing the project specification is straightforward. The specified ceiling panel should have an NRC of no less than 0.90. This ensures compliance with this section of the standard.
This article appears along with a couple of others in The Underlying Importance of Underlayments, a free, downloadable resource. To get your copy in either pdf or digital edition, visit https://www.constructionspecifier.com/ebook/huber-the-underlying-importance-of-underlayments-e-book.