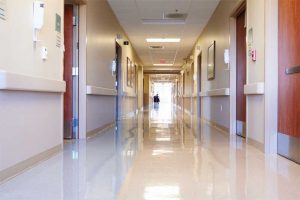 Architects often use the phrase '20-minute smoke door,' and it is common to see a door schedule calling for these products. To properly specify doors, frames, and hardware for fire door and smoke door assemblies, it is critical the proper terminology is used and the correct code requirements are referenced. Fire doors, even the 20-minute assemblies, are subject to completely different criteria than the non-fire-rated smoke doors.
For example, for a 20-minute fire door on an architect's door schedule, the hardware specifier will designate a labeled door and frame, positive-latching hardware, a door closer or automatic-closing device, and gasketing. All of the hardware will have to be listed or labeled for use on a fire door assembly, and any glazing in the door or sidelight would be subject to the limitations of the manufacturer's listings.
If this door is in a hospital corridor smoke partition and leads to a patient room, and the building is protected throughout by an automatic sprinkler system, the current model codes do not require a 20-minute fire door assembly. The door, frame, and hardware do not have to be listed or labeled for use as components of a fire door assembly. Additionally, the door is not required to be self- or automatic-closing. Vision panels are not limited in size and need not have fire-protection-rated glazing.
In the latest edition of a series of free, downloadable e-books, an article from the pages of The Construction Specifier seeks to explain the differences between smoke and fire doors, and why it is important to use the correct terminologies in the specifications. To get your copy, visit www.constructionspecifier.com/ebook/owens-corning-fire-protection-keeping-buildings-safe-e-book.