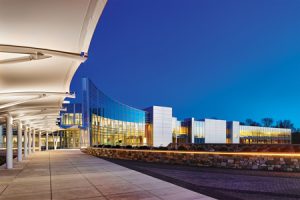 Construction professionals seem to find ways to add more layers and new materials to building envelopes. While these additional layers have helped reduce energy losses, they have not managed to keep water out of the walls. For example, the use of continuous insulation (ci) on exterior walls and the airtightening of building envelopes have only increased the need for materials with elevated drying potential (e.g. fiberglass insulation) because when (not if) moisture infiltrates the assemblies, it needs to escape. This is where resilient design comes into play.
Buildings must be durable and treated individually based on their climate zone (CZ), region, and the location—they must be robust. However, to do so, architects and specifiers must first understand how systems behave in different markets and how designs can be optimized to make the wall assemblies truly robust. Managing moisture would be the key to successfully constructing the sustainable buildings of the future.
In the latest edition of a series of free, downloadable e-books, an article from the pages of The Construction Specifier seeks to explain the concept of a 'robust wall'. To get your copy in either pdf or digital edition, visit www.constructionspecifier.com/ebook/georgia-pacific-ideas-on-permeability-e-book.