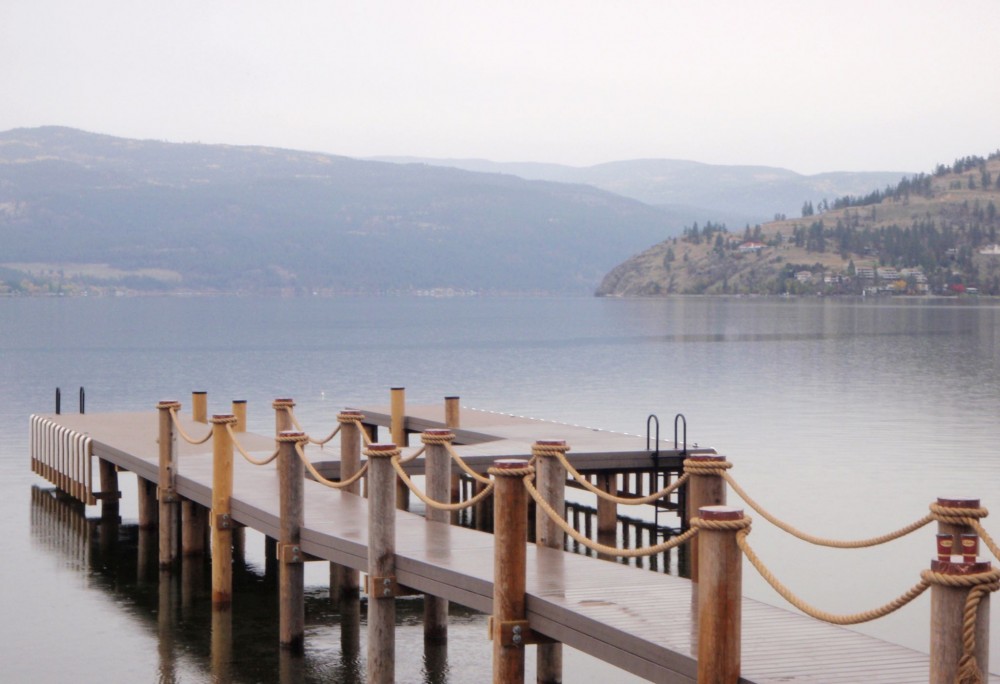 by Brent Gwatney
From marinas to hotels to public parks, design/construction professionals are looking for higher-performance decking options in commercial applications. Wood-plastic composites (WPCs) are increasingly a material of choice for demanding exposures, including docks, beachfront decks, and submerged access ramps.
Many manufacturers across North America produce composite decking; quality varies greatly. In the past few years, choosing an appropriate product has become more difficult as the range of options has exploded, including the introduction of capped composite boards.
Performance factors
When specifying composite decking, it is important to consider how products differ from one another, and how they compare and contrast with traditional wood decking. Key performance factors for specifiers to consider include the following:
moisture absorption;
insect resistance;
weight;
flammability;
surface temperature; and
structural considerations.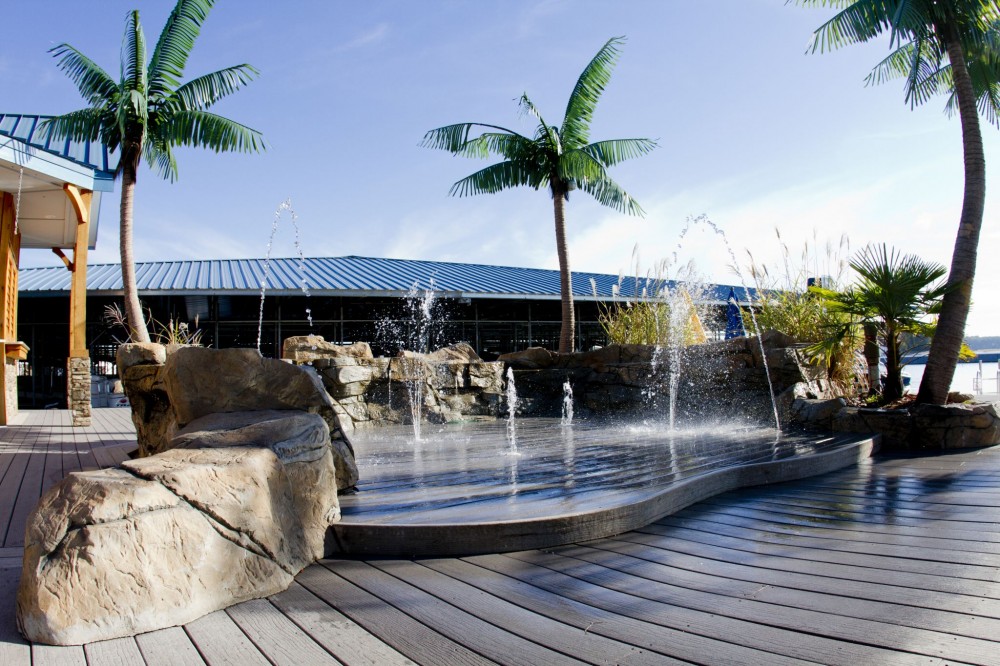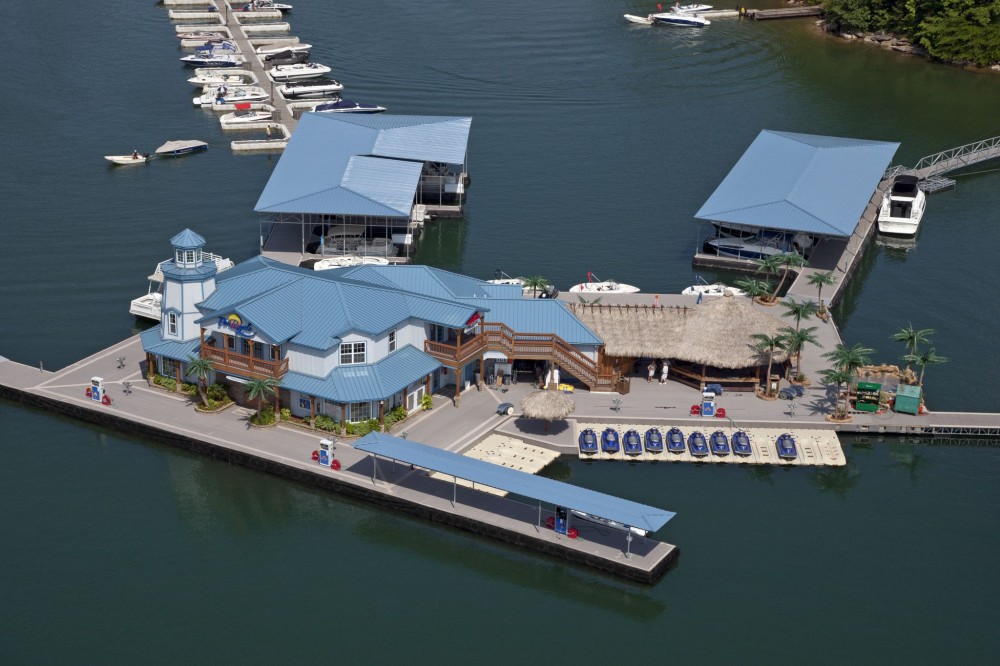 Moisture absorption
How long a decking material lasts largely depends on the degree to which it resists water. Moisture absorption can lead to rot in both wood and composite decking, along with mechanical damage from shrinking and swelling. Class-action lawsuits involving composite decking failures have addressed rot, mold and mildew growth, surface flaking, and cracking. Composites with any exposed wood fiber are susceptible to moisture absorption.1
Manufacturers have developed two methods to protect composite decking from water. The first, and most effective, way is to fully encapsulate the wood fibers in water-resistant plastic, such as polyethylene. Full encapsulation defends against moisture to the board's core, and allows installers to cut, drill, screw, and nail the boards without creating a pathway for water intrusion. As it is difficult to achieve full encapsulation, many manufacturers have moved from composite-only boards to making decking with a composite core and a protective cap (i.e. 'capped composites' or 'cap stock').
Capped composites rely on a thin outer layer of polymer plastic to keep moisture away from the composite core. Caps can be an effective enhancement for deck boards, but are not sufficient on their own to prevent moisture damage when the core is made of a composite that has exposed wood fibers. There are three reasons for this:
some capped composites only have a cap on three sides, leaving the bottom of the board vulnerable to moisture;
even if the cap is on all four sides, both board ends remain unprotected; and
most importantly, jobsite crews breach the cap in many spots when using screws or nails to attach the decking.
Newly developed boards combine the added durability of a cap with the moisture defense of composite cores that have fully encapsulated wood fibers. In this case, the cap is used for enhanced resistance to staining, fading, and scratching; it is not primarily for water protection since the composite core is already moisture-resistant.
When choosing any capped decking, it is important to evaluate how well the cap is attached to the composite core. Some manufacturers use proprietary techniques that integrate the cap more completely with the core, which helps prevent delamination.

Insect resistance
Traditional wood decking requires treatment to avoid destruction by termites, carpenter ants, and other damaging insects. Composites, which are made of substantial amounts of inedible plastics, are impervious to insect attack and therefore do not require treatment. Additionally, composite decking with fully encapsulated wood fibers can have direct ground contact and still withstand moisture and insects. This is an important specification criteria, as untreated wood in contact with the ground is a primary pathway for insects to bore into other parts of a deck or structure.
Weight
Depending on the product, composite decking weighs about 45 percent more per unit than the redwood boards used on many home decks, yet is about 45 percent lighter than the ipe hardwood often installed on commercial decked surfaces (Figure 1). In commercial projects, designers therefore typically do not need to make substantial structural modifications to carry the dead loads of composite decking compared to those of ipe and similar hardwoods.
Flammability
WPCs have a fire behavior very similar to, or better than, comparable timber products, according to Tangram Technology, a UK-based consulting engineer firm.2 There are some manufacturers introducing capped boards with a Class B fire rating, but, composite decking commonly carries a Class C fire rating, which is similar to the wood structural members commonly used for decks.
Surface temperature
Anecdotal reports indicate dark-colored composite decking, especially more dense products, can become uncomfortably hot for bare feet in direct sunlight. A similar effect happens with dark wood decking. To mitigate this in sunny climates, building professionals can specify lighter color decking. For composites, this includes grays, tans, and other similar hues.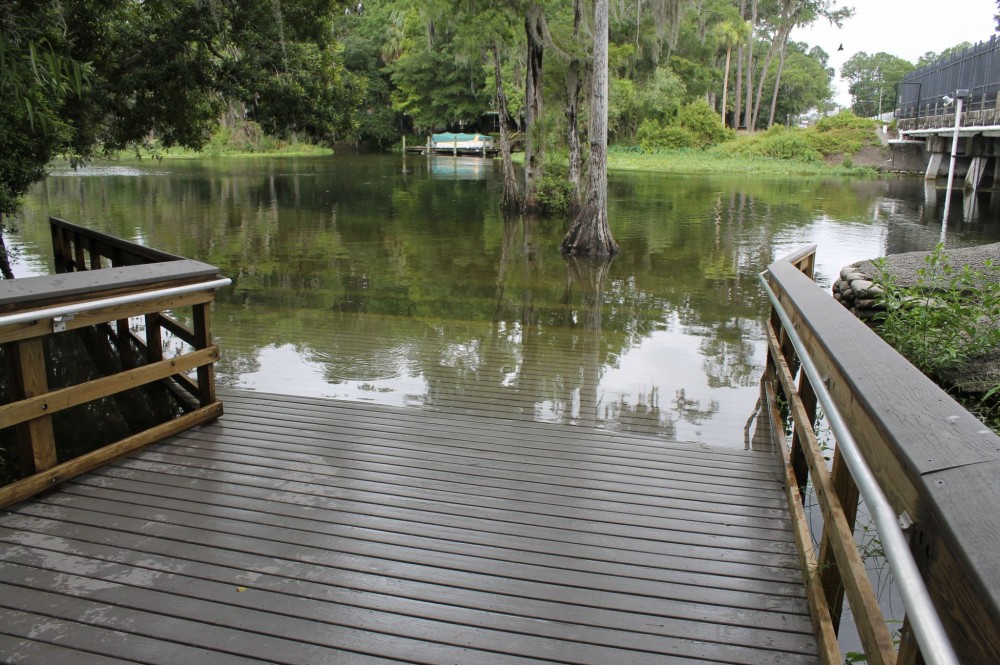 Structural considerations
Composite deck boards are less stiff than wood decking, so they are not suitable for use as structural members. However, a typical allowed joist spacing for composites—406 mm (16 in.) on center (oc)—is comparable to wood decking. To prevent sagging, it is important to confirm the allowed joist spacing, and allowed cantilever distance, for a given composite deck product and board profile dimensions.
Installation in demanding exposures
Due to the superior moisture resistance of high-performance composite decking, the product is being specified for lasting durability in demanding exposures. Examples include marinas, fully submerged access ramps, waterpark decking, and beachfront hotels.
Port Royale Marina
The owners of the 500-slip Port Royale Marina, on Georgia's Lake Lanier, are installing moisture-resistant composite decking as part of a multi-million dollar facilities upgrade. Composite decking applications throughout the marina, include the:
main deck;
docks;
access bridge;
raised walkways;
finger peers;
restaurant deck; and
children's spray park.
Composite decking was specified for its more manageable maintenance, long-term durability, and aesthetics. Previously, 2×8 pressure-treated lumber was used. The moisture resistance of high-performance composite decking made it an ideal choice for Port Royale Marina's decking, which is subject to high-moisture exposure from Georgia's humid climate and frequent contact with the lake water.
One of the marina's amenities receiving especially intense water exposure is the children's spray park. As it includes several water fountains that spray up from the surface, the space required decking that would withstand continual soaking.
In addition to moisture resistance, Brent Pearson, operations manager at TEI Industries, the marina's owner, noted the high-performance composite decking is a cost-effective choice. Alternatives such as fiberglass are more costly; ironwood or ipe have incredible strength, but can be twice the price of composites.
"It's easy to work with, and obviously easier to fasten in place than ipe or concrete—its workability is similar to wood," Pearson said.
Blue Run of Dunnellon Park
Defending decks, docks, and boardwalks from rot and damaging insects often means keeping boards high and dry. This is not always easy in moist climates such as Florida, and especially for an in-water access ramp to serve canoes, kayaks, and inner tubes.
When the Marion County Florida Parks & Recreation Department built a new river access at the Blue Run of Dunnellon Park in 2012, it chose high-performance composite decking with fully encapsulated wood fibers for a durable deck surface. The water- and insect-resistant deck boards enabled the county to extend a 3.7-m (12-ft) wide ramp directly into the Rainbow River without worries of degradation.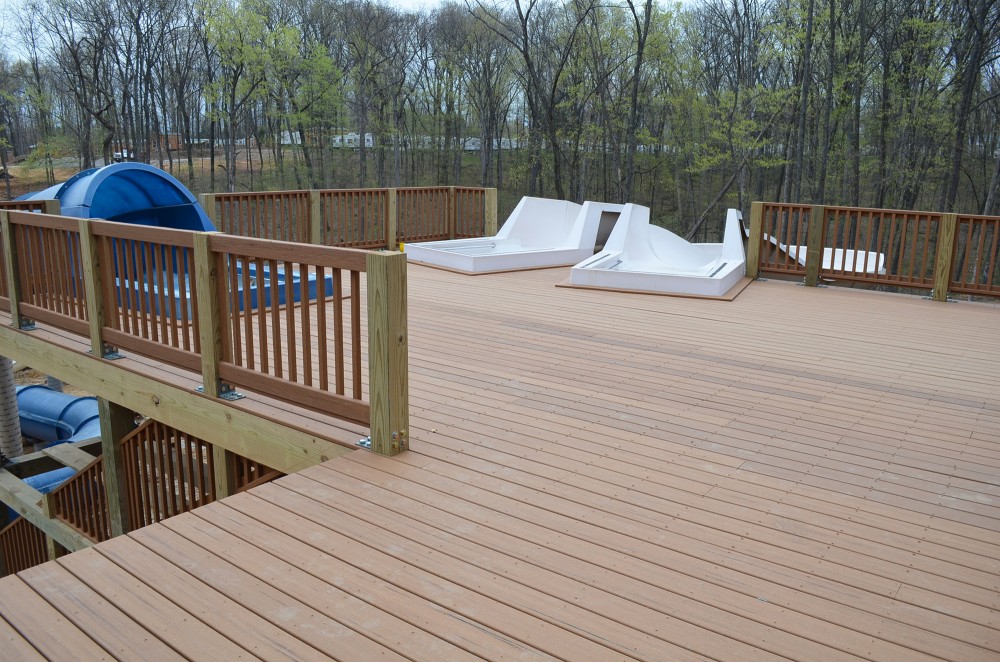 "In Florida, we have a challenge when it comes to dealing with outdoor construction: heat and humidity join to really test any material," said Jim Couillard, PLA, ASLA, a landscape architect with the Marion County Parks & Recreation Department. "Lumber does not last as long as you would think, so composite decking is a smart choice."
The county designed the Blue Run river access ramp to make it easier for the approximately 40,000 paddle craft enthusiasts and tubers that use the park annually to get in and out of the water safely, without eroding the riverbanks. The 24.4-m (80-ft) long ramp includes a 4.6-m (15-ft) portion extending into the river. Attached railing enhances safety and is part of providing accessibility for handicapped people. The splinter-free deck boards also provide comfort for barefoot park users.
"We believe in using long-lasting, durable materials that will lessen our long-term maintenance costs," said Couillard. "With high-performance composite decking we are able to avoid sanding, staining, or sealing the surface decking, thus enabling staff to focus on other aspects of their day-to-day activities."
Lake Rudolph Campground and RV Resort
The Lake Rudolph Campground & RV Resort in Santa Claus, Indiana, is a popular destination for families throughout the Midwest, hosting about 3000 visitors daily. One of the resort's more demanding decking applications is for the stairs and platforms on the water slides at its Santa's Splash Down waterpark complex.
The resort owner chose moisture-resistant composite decking to withstand the repeated splashing from the waterslides, and to provide a splinter-free and slip-resistant surface for park users. Composite decking also provides an attractive and comfortable outdoor surface for the resort's 53 Rudolph's Christmas Cabins.
Hilton Sandestin Beach Golf Resort and Spa
After a fire ravaged the outdoor space at the Hilton Sandestin Beach Golf Resort and Spa, the resort on the Gulf of Mexico looked to composite decking to create an expansive new 1580-m2 (17,000-sf) multi-purpose deck.
After careful consideration in choosing a new decking material, including appearance, availability, and performance in the coastal environment, the project team specified high-performance composite decking.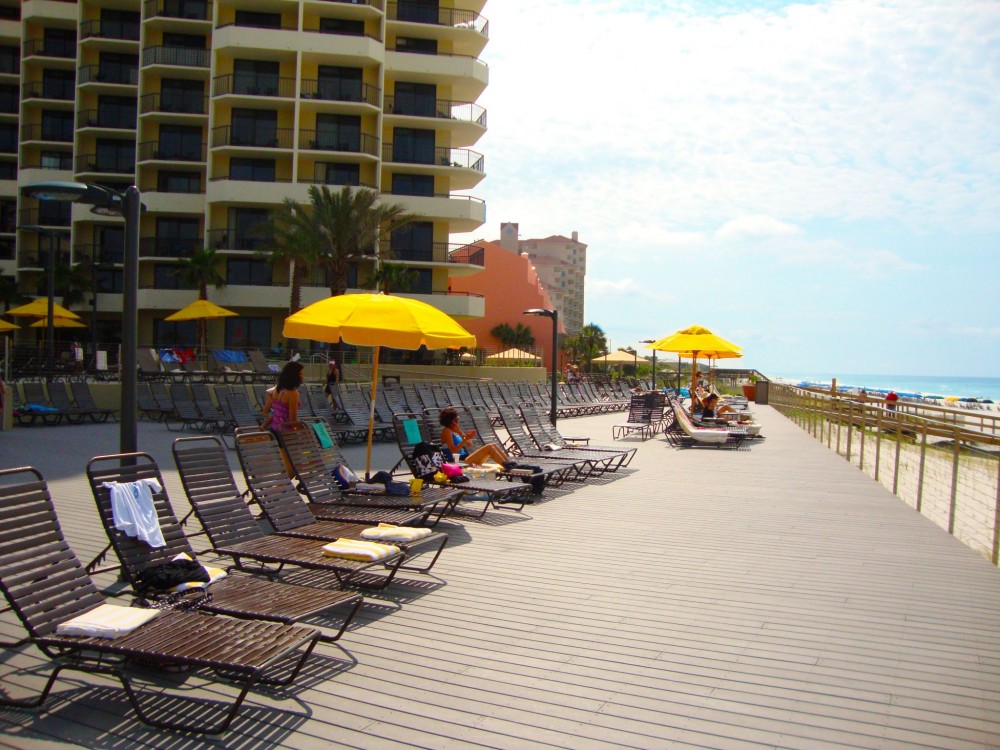 Conclusion
In numerous cases, the composite decking industry had a bumpy start, with notable product field failures. However, appropriately manufactured composite decking and railing can withstand the most demanding requirements. As a result, it is important to check the manufacturer's track record to ensure specification of a high-performance product.
In addition to performance, the decking's appearance is another important factor for many design professionals and project owners. Composite decking manufacturers have become sophisticated at producing attractive materials. For example, composites are available in a multitude of color options, including variegated hues with the look of exotic hardwoods. Many boards also have realistic-looking embossed wood grain patterns.
For building teams seeking a green project rating, composites can contain up to 95 percent recycled content, which can help earn rating points in Leadership in Energy and Environmental Design (LEED) and other green building programs.
Due to composite decking's performance, aesthetics, and use of recycled content, market researchers predict strong growth for the product segment. For example, business research company the Freedonia Group reports WPC and plastic lumber decking materials will grow at double-digit rates, far outpacing the wood segment.3
Notes
1 See "A Technology Review of Wood-Plastic Composites," by Michael P. Wolcott and Karl Englund at the Washington State University Composite Materials and Engineering Center. (back to top)
2 See "Wood-Plastic Composites: A Technical Review of Materials, Processes and Applications, Tangram Technology," at www.tangram.co.uk. (back to top)
3 See The Freedonia Group's "Wood & Competitive Decking: Industry Study with Forecasts for 2016 and 2021" at www.freedoniagroup.com. (back to top)
Brent Gwatney is senior vice president for sales and marketing at MoistureShield composite decking, and serves on the North American Deck and Railing Association (NADRA) board of directors. He has specialized in the building industry for more than 30 years, working with manufacturers, dealers, design professionals, contractors, and building officials. Gwatney can be reached at bgwatney@aert.cc.