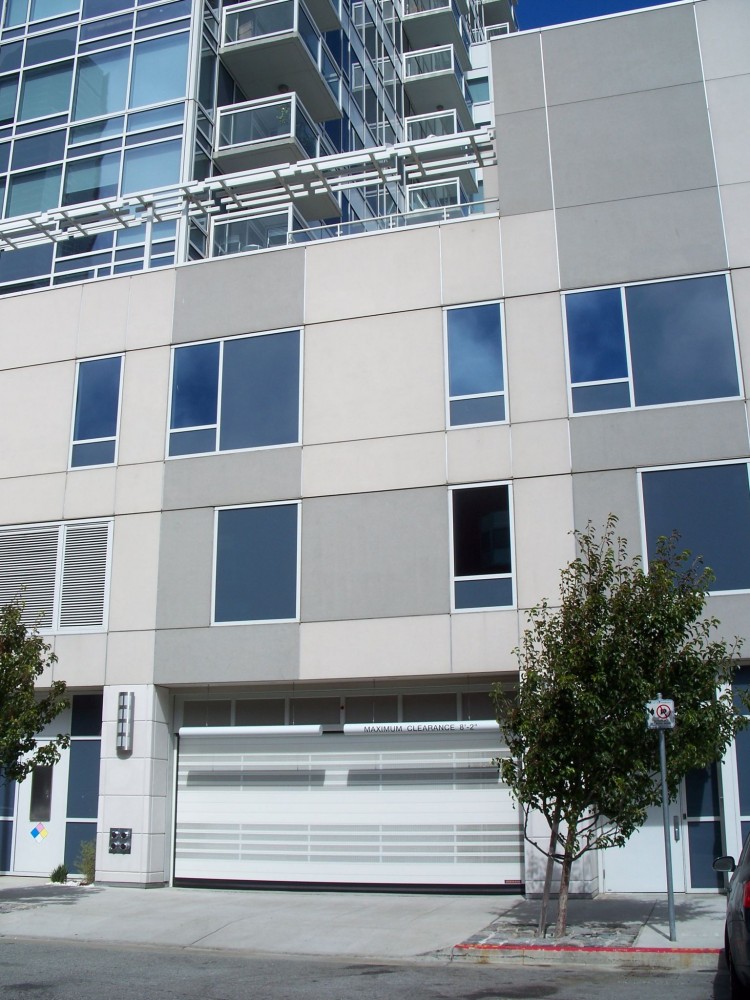 by Alice M. Permigiani
Archeological evidence shows the first wheeled vehicles existed in 4000 BC. As the use of wheeled vehicles increased, so did the need for buildings to store them.

Centuries ago, castle gatehouses and drawbridges would have opened to allow carriages, chariots, and coaches to enter. As the years passed, carriage houses, similar in function to today's garages, were constructed to protect wheeled vehicles, with the first appearing in America during the early 1700s.
Early garages typically had double doors that swung outward to open. This design presented a problem when snow accumulated in front of the door, and the installations tended to wear out fast. In 1830, merchants in New York City began searching for secure window and door coverings. In 1854, the first U.S. 'coil-up' door patent was issued; its design consisted of counterweights connected by vertical rows of hinges.
By the 1870s, an interlocking slat design using a spring balance instead of counterweights was introduced. This product was less expensive and simpler to install, and did not require space needed for counterweights. This gave way to the manufacturing of rolling steel doors in the late 1800s using the most current methods, as well as machines to make rolling steel doors in wider widths.1 The progression of door design continues to more efficient, cost-effective doors to meet operational demands.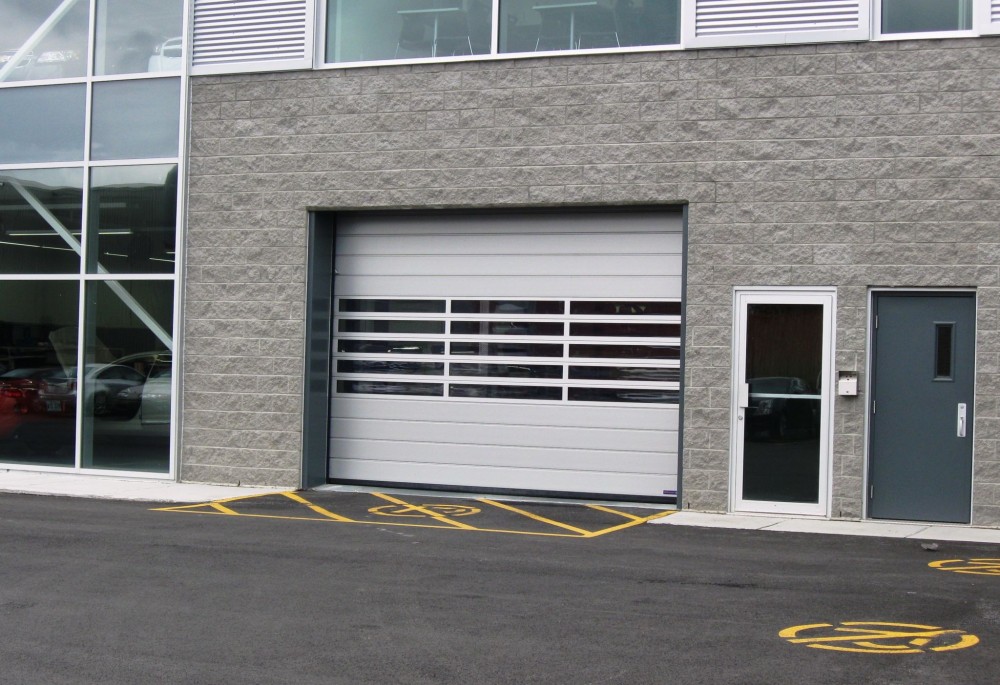 Conventional rolling steel doors vs. high-performance security doors
The first high-performance, high-speed roll-up doors were introduced in Europe in the late 1960s as a response to an increased need for reduced door maintenance costs, better in-plant environmental control, and improved material handling. They made their way to the United States some 15 years later.
It stands to reason designers are familiar with conventional rolling steel doors because they have existed for decades prior to the introduction of high-performance, high-speed roll-up doors. Therefore, many still specify conventional rolling steel doors for exterior door openings found in parking garages, office buildings, and industrial areas. However, a growing number are calling for high-performance security doors (HPSDs) for exterior installations.
Limitations of rolling steel doors contribute to designers' interest in HPSDs. These include not only high maintenance costs, but also slow opening/closing speeds. For example, a standard rolling steel door in a 2-m (6.7-ft) high opening takes 11 seconds to open/close, while the same HPSD opens/closes in 2 seconds (based on an operating speed of 2032 mm [80 in.] per second). The slower opening/closing speed also makes the rolling steel door more prone to being hit and damaged. Often, panels require full replacement. Further, pressure on 'C-shaped' panel slats causes the panel to shift while in the closed position. This results in poor sealing around the opening and allows air to infiltrate into the interior.
In contrast, depending on the model, HPSDs offer fast cycling speeds from 914 to 2540 mm (36 to 100 in.) per second, high-cycle capabilities (i.e. ability to open/close the door numerous times without motor replacement or full maintenance), full-perimeter draft seals and flat slats for reduced air infiltration, and highly-insulated panels with an R-value of up to 13.6 for superior thermal qualities. Built-in safety devices such as a guide-track light curtain—which automatically reverses the door when infrared (IR) horizontal beams are interrupted—provides protection of personnel and materials in the door opening area. Further, HPSDs can save money in energy expenditures as well as 'employee wait time' (i.e. the amount of time an employee waits for a door to open).
These doors are being specified in various applications, including:
general industry;
automotive retail;
parking garages;
bank centers;
government buildings;
condominiums; and
fire stations.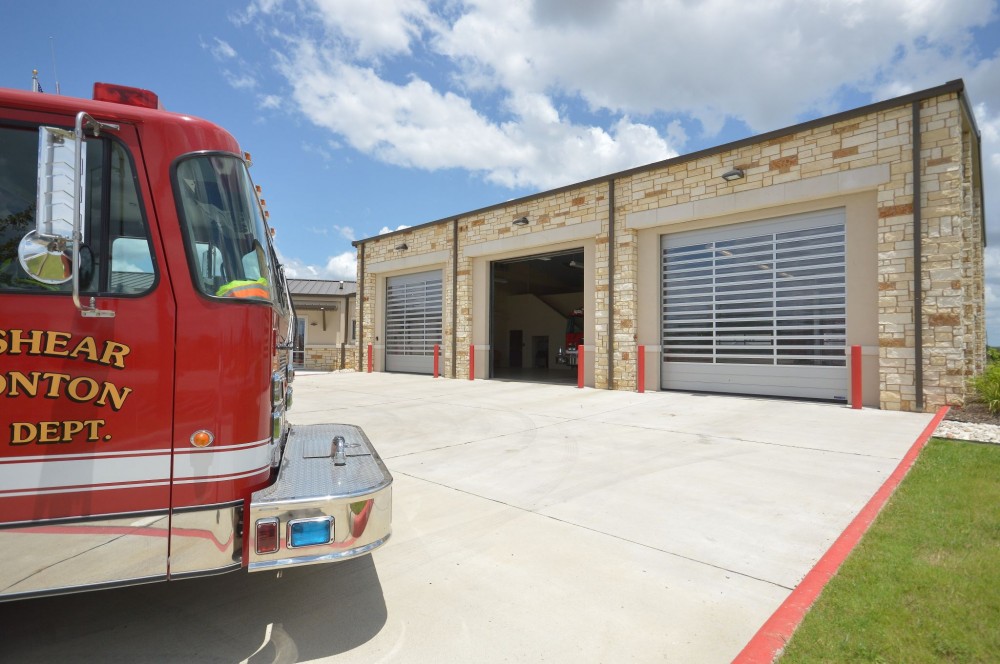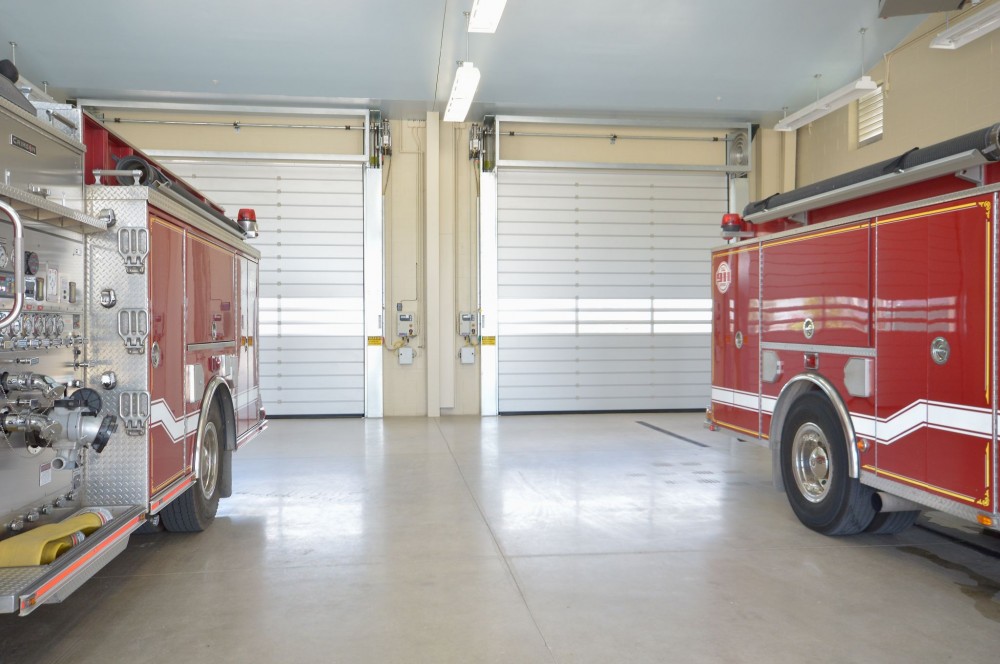 Specifying doors
More and more designers are participating in continuing education courses about high-performance doors and best practices for specifying them in both new construction and renovation projects. It is a subjective decision as to which door to use, but if the door will be cycled more than 10 times an hour, it generally proves more energy-efficient to install a HPSD instead of a conventional rolling steel door.
Here are some questions that should be answered when analyzing the environmental and physical reasons for choosing a HPSD.
Environmental security
How important are heating and air-conditioning control requirements?
Is there a need to separate areas to avoid cross-contamination?
Is the doorway in close proximity to a dumpster or other odor-producing sources?
How important is a clean working area with adequate wind/dust control?
Is the doorway located near noisy, high-traffic roadways?
Physical security
What type of traffic will pass through the doorway (e.g. cars, fork trucks, or pedestrians)?
Does the current traffic flow smoothly through the door opening?
Is there merchandise nearby that could be easily stolen without a secure door in place? Is a secured building important because of the officials working there and/or protection of classified documents?
How many times is the door going to be cycled per hour and per day?
How important is it for the door to function for critical access?
Identifying the need to improve on any of these environmental and physical security points is grounds for choosing a HPSD in place of a conventional rolling steel door. Though rolling steel doors can address these needs in some applications, the number of cycles a door will experience per hour is an important factor to consider.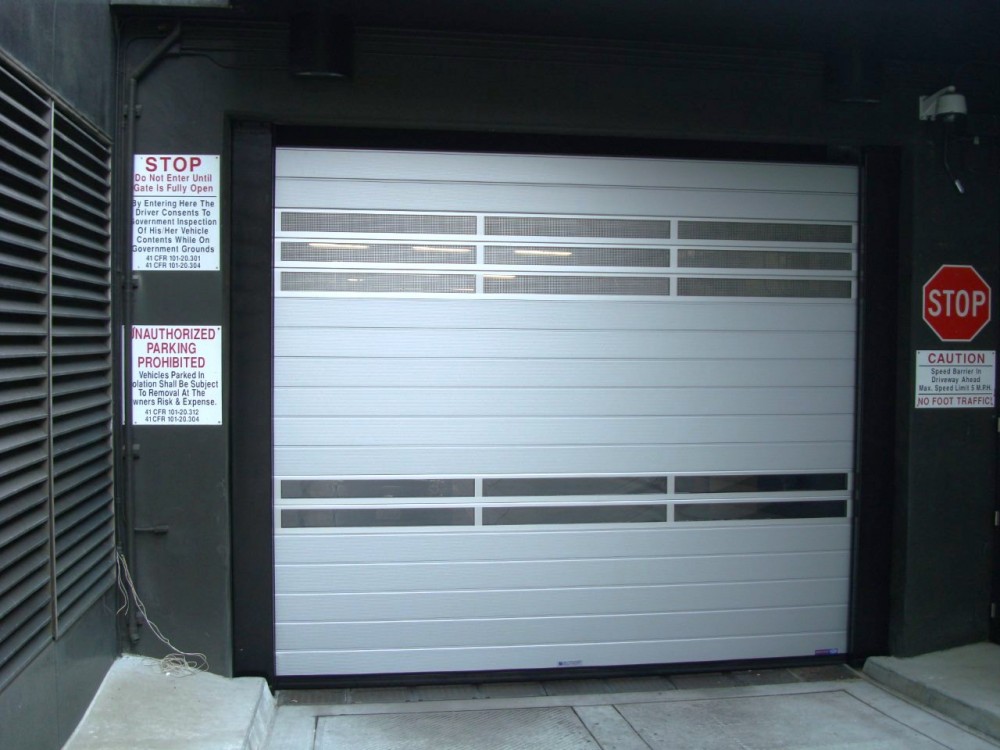 When determining the feasibility of specifying a HPSD, it is also useful to conduct a cost analysis of the specific application details, and to combine that information with the cost of employee wait time and the value of achieving solutions to one or more of the environmental or physical security points. Typically, an HPSD is three to five times more expensive in terms of first costs.
An average return on investment (ROI) for one high-performance security door is about two and a half years based on an average purchase price of $15,000, annual energy savings of $267, annual employee wait time savings of $2817, and depreciation cost savings of $4095 annually.2
Benefits of HPSDs
In addition to monetary savings, owners are becoming more interested in incorporating HPSDs into building design for security, increased aesthetic appeal, and employee comfort. These benefits can be realized in any application, but some are more tangible in specific examples.
General industry–Energy and wait time
When an exterior door is going to cycle a couple of times per hour, significant savings in both energy expenditures and employee wait time may be achieved by using a HPSD. Therefore, performing a cost analysis can help justify the higher initial purchase price of the door. For any application, variables/input data such as the door's cost, number of cycles, average temperatures inside/outside of the building, and accumulation of hours saved in employee wait time may be plugged into various manufacturers' calculators to determine the annual savings compared to a rolling steel door, as well as the number of years it takes for the door to pay for itself.
Industrial applications usually have fork truck and pedestrian traffic through exterior doorways as they receive and ship goods. HPSDs open and close fast to allow for efficient material handling through the opening, and automatic door opening activations such as remote control and motion detectors eliminate employee wait time for increased productivity and savings in energy costs.
Bank centers and government buildings–Security
The panel materials used on HPSDs consist of a steel skin and, in most cases, insulation and windows with total panel thickness from 22.2 to 47.3 mm (7/8 to 1 5/8 in.). Double-pane windows provide better insulation and protection from breakage, and ventilation slat/windows allow for air circulation into the building while the door is closed for security. Robust panel thickness, along with fast cycling speeds up to 2540 mm (100 in.) per second, mean the door opens and closes quickly. This also means the door, when closed, creates an effective barrier contributing to reduced theft and unauthorized entry—priorities for bank centers and government buildings where classified documents are stored and protection of occupants is crucial.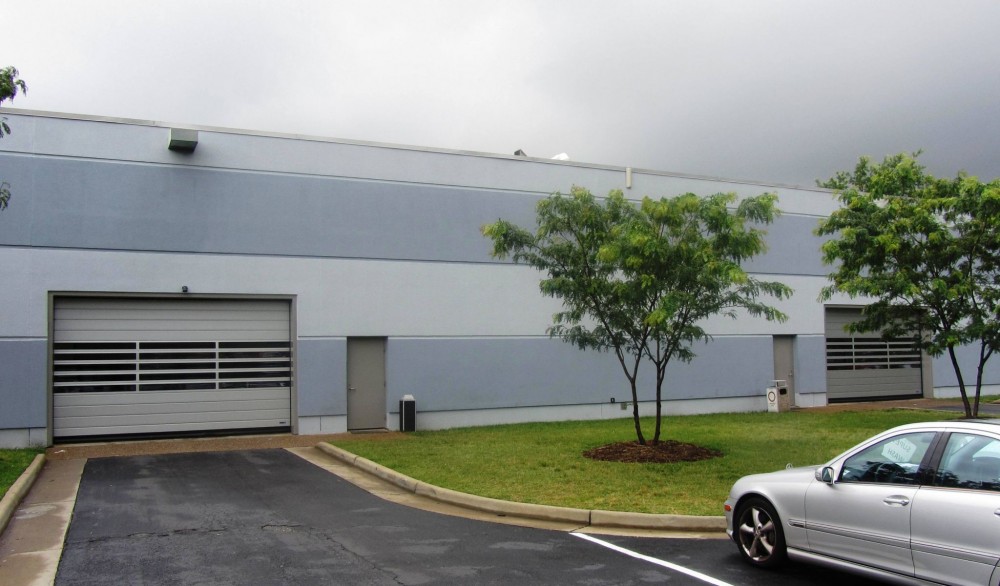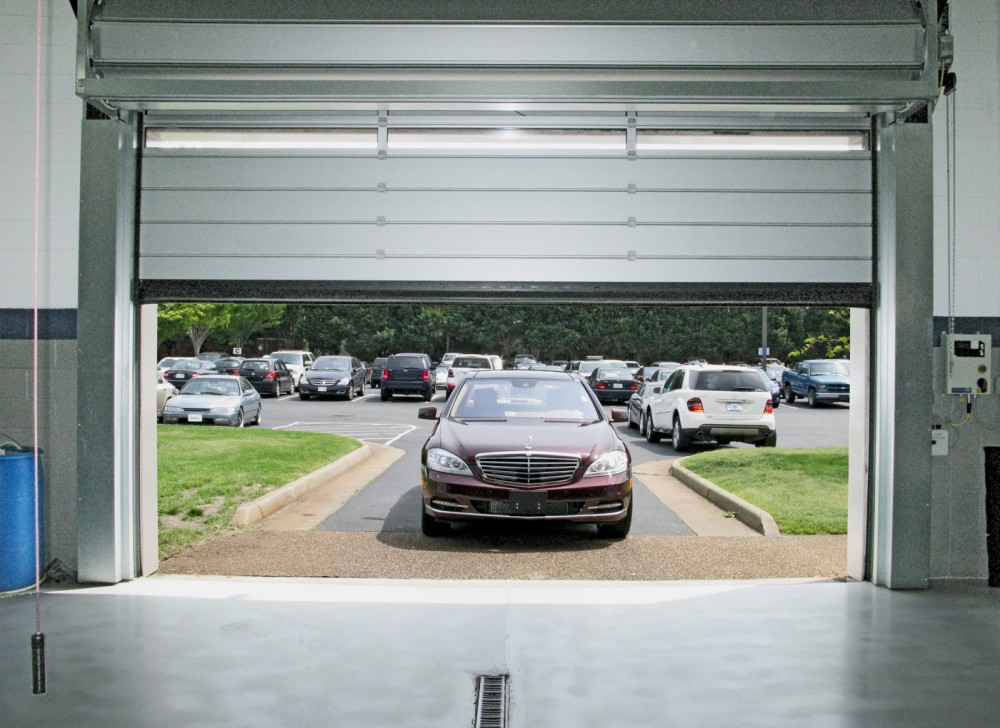 Condominiums–Critical access
The fast operation of HPSDs and built-in guide track light curtains drastically reduces the likelihood of impact and damage to the door, as compared to slow-moving rolling steel doors that are more easily hit and damaged and often left un-operational until a maintenance crew arrives. Some condominiums have only one vehicle access door opening to their parking area, so operational dependability is critical.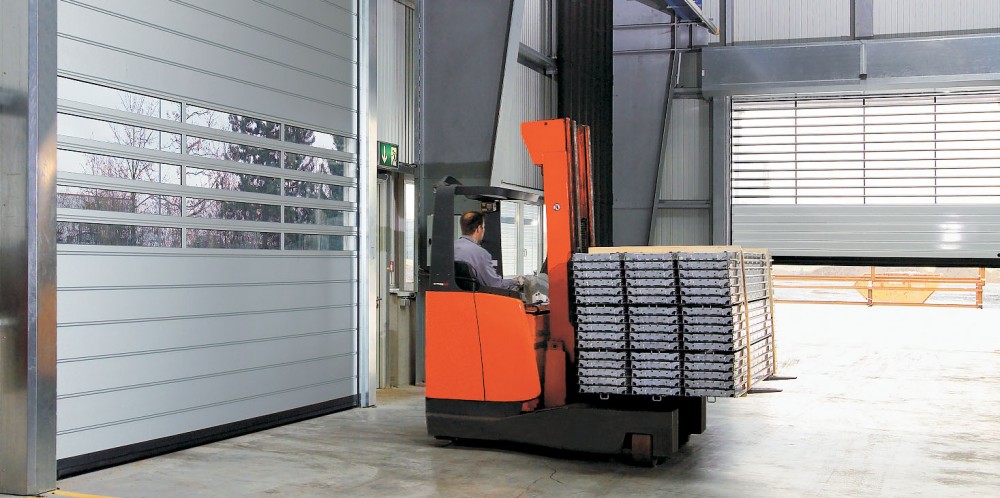 Fire stations–Environmental control and employee comfort
The fast opening/closing speeds and thermal composition of the HPSDs make it possible to minimize the amount of air from outside that filters into environmentally controlled areas, which maintains a comfortable workplace for employees and also aides in noise reduction. Both new construction and renovated fire stations are realizing this benefit.
Fire stations need a door to open as fast as possible to allow for the exit of emergency vehicles. For example, a HPSD that opens at 2032 mm (80 in.) per second will open a 3.6-m (12-ft) high door in four to five seconds. Additionally, fire chiefs look for doors that will reduce the amount of noise infiltration, and the highly insulated panel of HPSD satisfies this need as well.
Automotive retail–Aesthetics and corporate image
In addition to cost savings, owners are becoming more interested in making high-speed security doors a part of their building design for aesthetic appeal. HSPDs have a sleek appearance, and are available in custom colors to match specific schemes and thermal qualities. For companies that consider corporate image a priority, HPSDs are a popular choice because their streamline appearance fits a modern and progressive image.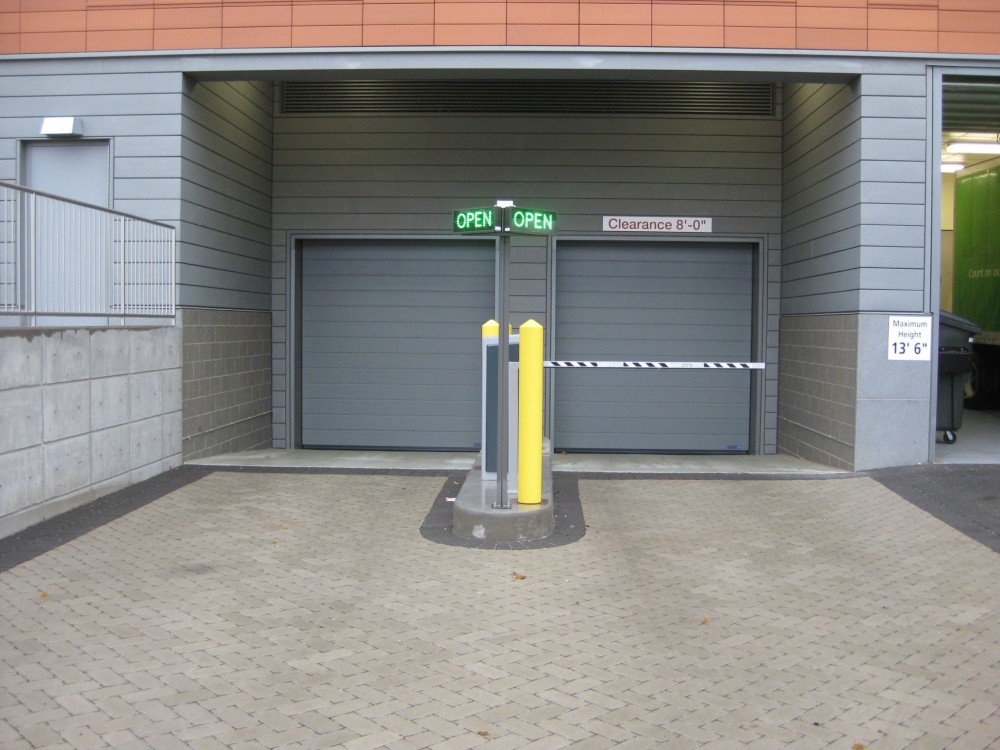 This is especially true in the automotive retail industry where high-speed security doors are being specified on service entrance and exit door openings. Dealerships view HPSD's efficiency as a way to separate fixed operations from their competitors, as they are keeping up with the latest technology.
All applications–Reduced maintenance costs
High-performance security doors are designed to operate for thousands of cycles maintenance-free. The fast cycling speeds reduce the chance of damage from accidental impact, resulting in fewer service calls and lower maintenance costs.
Conclusion
As the industry continues to evolve, so will high-performance door manufacturing processes and design. Designers will make an effort to stay abreast of the most modern doors available, and should continue to combine their knowledge with a detailed analysis of each specific application.
Notes
1 For more, see "History of the Garage Door," by Deanne Winterton at www.articlesbase.com. (back to top)
2 Payback calculation based on energy savings at $0.10 KWh, average interior building temperature of 21 C (70 F), average outside building temperature based on 13 C (56 F)—based on the average of the average temperature of all 50 states, www.currentresults.com—employee wait time savings of 141 hours per year, $20/hour fully loaded employee cost per hour and 260 work days per year; depreciation cost based on the cost associated with the number of rated operations, $0.02 for the high-performance door. (back to top)
Alice M. Permigiani is the marketing director for Hörmann Flexon LLC, High-performance Doors, a global manufacturer of high-speed, high-performance doors. She helps develop and maintain strategies and programs targeted at promoting product development through a national dealer network. Permigiani can be reached at a.permigiani@hormann-flexon.com.