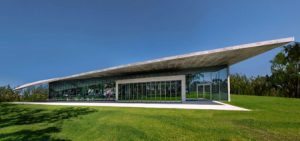 Earlier this fall, the University  of  Miami opened the Thomas  P.  Murphy Design Studio Building.  Designed by architecture firm Arquitectonica and constructed by Coastal Construction, the 1858-m2 (20,000-sf) has earned a Leadership in Energy and Environmental Design (LEED) certification. It  is  the newest  addition  to  the university's School  of Architecture and will serve as a laboratory and collaborative space for the next generation of architects.
The exposed structure of glass and concrete serves as a teaching tool by illustrating some of the basic tenets of modern architecture, construction, and sustainability. The building is, in essence, a single, over-sized shed, featuring a vaulted roof suspended 5.5 m (18 ft) over the floor by narrow steel columns and a few fixed walls. The roof structure enables natural light to permeate the building that is stocked with digital fabrication facilities, exhibition areas, and a room for social and public functions.
"It complements the school's constellation of buildings that constitute a campus-within-the-campus," said Rodolphe el-Khoury, the architecture school's dean. "The vast studio space designed to enhance co-creation and the digital fabrication lab, among several other features, are welcome additions to our beloved historic and award-winning facilities."
The open-plan studio space is based on a 7.6-m (25-f) square module that can accommodate a variety of desk configurations ranging from 90 to 130 workstations. Scattered cubes of several materials signify different uses within the open studio space, such as curtains for the jury areas, glass and panels for seminar and meeting spaces, and concrete for the fabrication lab.
The design, orientation, and strategic elements of the building address the movements of the sun and ensure a sustainable working environment. The building can operate during daytime without employing artificial light. It also uses 5.5-m (18-ft) high, hurricane-resistant glass panels. The concrete roof warps over the southernmost point of the building to shade the interior from sunlight.