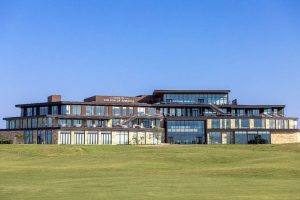 Adolfson & Peterson Construction (AP) utilized indigenous Texan Lueders limestone to reduce transport-related emissions in constructing the 9,906 m2 (106,622 sf) headquarters of The Professional Golfers' Association (PGA) of America in Frisco, Texas.
Cushman & Wakefield served as construction manager for the $33.5 million project and the design firm Page provided the architectural services. Among other green practices employed in the design and construction are the building's orientation to maximize natural light with a predominant use of glass, while minimizing solar gain. Also, the interior's design feature natural, recycled, and low-VOC (volatile organic compounds) materials to enhance the indoor air quality. Furthermore, Bioswales allow for stormwater conservation.
The headquarters building has applied for the U.S. Green Building Council's LEED Silver certification. LEED-certified buildings are proven to save money, improve efficiency, lower carbon emissions, and create healthier places for people.
On the topic of sustainability, PGA president Jim Richerson noted, "The PGA took a conscious effort in reducing, reusing, and recycling during design, construction, and in-building usage after moving in. More than 75 percent of construction waste was recycled or reused."
The four-story headquarters sit on 2.51 ha (6.2 acres) of the new 267-ha (660-acre) PGA Frisco campus, which includes two new 18-hole championship courses, a 510-room Omni Resort, a 12.1-ha (30-acre) practice facility, a performance center, and a modern clubhouse. The headquarters was designed to promote the PGA's mission to bring together state-of-the-art education facilities and a world-class workplace.