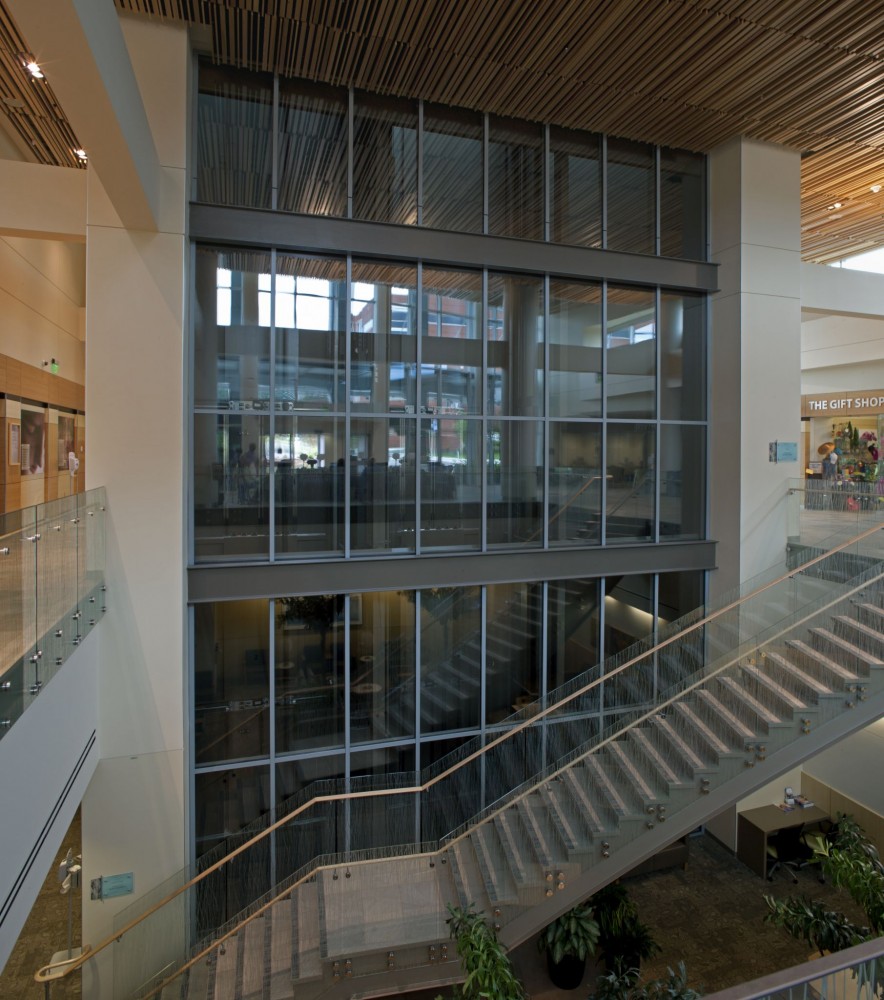 by Jeff Razwick
Glazed curtain walls are best known for their ability to visually integrate two otherwise separate spaces. Less talked about—though, perhaps more important—are curtain walls with the capability to retain visibility and access to daylight while standing guard against fire.
Tested to ASTM E119, Standard Test Methods for Fire Tests of Building Construction and Materials, and Underwriters Laboratories (UL) 263, Fire-resistance Ratings, fire-rated curtain walls can satisfy life safety requirements without sacrificing transparency—for better safety and aesthetics. Their multi-functionality is critical to helping design teams meet a complex set of performance criteria with one product, eliminating redundant systems and streamlining construction.
Simply put—fire-rated curtain walls allow design teams to do more with less in areas where fire and life safety is a concern. For design professionals interested in using the tough-yet-transparent form of such curtain walls to tackle multiple project demands for interiors, certain questions may arise during the specification process.
1. What constitutes a fire-rated curtain wall?
Fire-rated curtain walls block the transfer of flames and smoke, as well as radiant and conductive heat, for the duration of their given fire rating. To achieve this level of defense, fire-rated curtain walls incorporate fire-resistive glass and framing.
Fire-resistive glass is typically a clear, multi-laminate product with an intumescent interlayer that turns opaque during a fire. This reaction allows the glass to carry fire ratings up to 120 minutes, pass the fire and hose stream tests, and remain relatively cool on the non-fire side of the glass for its designated fire rating.
Fire-resistive frames serve as the support structure in fire-rated curtain walls, and can block the transfer of radiant and conductive heat for up to 120 minutes. While many framing systems employ fire-resistive insulating materials to achieve the necessary defense, those using inherently heat-resistant framing materials like carbon steel do not typically require thermal barriers within their core to protect against heat transfer. Regardless of the material chosen, packing the perimeter of the framing system to the rough opening with firestop insulation or an appropriately rated intumescent sealant is critical to the system's overall performance.
Some manufacturers offer comprehensive fire-rated curtain wall systems, complete with frames, glass, seals, and component parts. These integrated assemblies ensure all components are designed and tested in the same assembly and to the same standard. This is critical since the International Building Code (IBC) requires all elements within a fire-resistive glazing assembly to provide the same category of fire resistance and carry the minimum fire rating as stated in the code.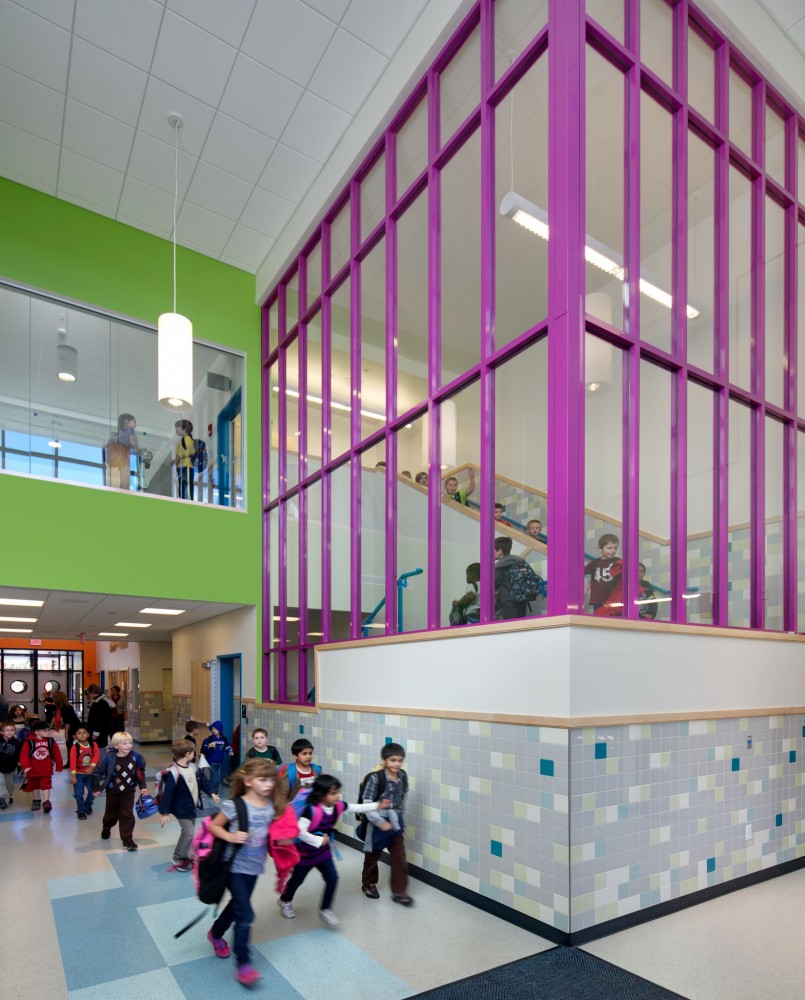 2. Where are fire-rated glass curtain walls suitable for use?
Fire-rated curtain walls are typically suitable wherever building codes require an assembly designated "fire resistant" to enclose a space. Examples include wall applications requiring a 60-minute or greater fire rating that must meet temperature-rise criteria, such as stairwells, walls in exit corridors, or other fire barriers dividing interior construction exceeding 25 percent of the total wall area.
Since the choice to incorporate fire-rated curtain walls is often at the design team's discretion, it is important to evaluate whether the daylight and visibility provided is advantageous to occupant safety and well-being. For example, an expansive multi-story, fire-rated curtain wall may prove beneficial to people working in a hard-to-light office. Similarly, a single-story fire-rated curtain wall enclosing a stairwell, lobby, or gathering area can extend line of sight to boost safety levels or create a sense of collaboration.
3. Are fire-rated glass curtain walls suitable in areas where they are susceptible to impact?
Fire-rated curtain walls are available with glazing that provides up to Category II (Consumer Product Safety Commission [CPSC] 16 Code of Federal Regulations [CFR] 1201, Safety Standard for Architectural Glazing) impact-safety ratings. This is the highest rating, indicating the glass can safely withstand an impact similar to that of a fast-moving adult. As such, fire-rated curtain walls are ideal for use in high-traffic areas, including schools, gymnasiums, and hospitals.
4. How do fire-rated and non-fire-rated curtain walls compare?
Unlike the bulky, wraparound form of traditional hollow metal steel frames, modern fire-rated frames have a slender profile and sleek aesthetic. They can be much narrower, have well-defined edges (rather than rounded profiles), and have vertical-to-horizontal framing joints without visible weld beads or fasteners.
In areas where a frame-free exterior surface is desirable, it is now possible to specify fire-rated curtain walls with the smooth, monolithic appearance of a structural silicone glazed system. One available assembly is silicone-sealed and requires no pressure plates or caps. Its toggle retention system becomes completely hidden once installed, creating a seamless, uninterrupted surface appearance.
5. What finishes are available for fire-rated curtain wall systems?
Design professionals can achieve nearly any look when it comes to fire-rated frame appearance. Carbon steel frames can be wet-painted or powder-coated to match virtually any color scheme, from aluminum to bright greens and blues. Framing materials also include polished or brushed stainless steel.
Fire-rated frames are also available with finished stainless steel or aluminum custom cover-caps to provide design professionals with even greater aesthetic flexibility. The face caps are available in numerous shapes and sizes—from H- and I-shapes to custom configurations. Stainless caps are typically brushed finish while aluminum ones can be wet-painted, anodized, or powder-coated to match the framing.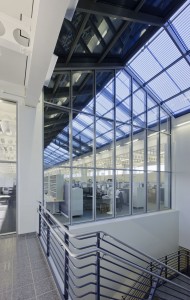 6. Are there any limitations to be aware of?
Since mismatched fire-rated glass and framing ratings can jeopardize the safety of a fire-rated curtain wall, it is important to verify the entire assembly provides the same type of fire protection and has a fire rating equal to or greater than the code requires. This includes the glass, frames, hardware, and all component parts.
From a performance standpoint, use of fire-rated glass requires stiffer deflection limits due to imposed wind loads. Typical curtain walls will allow L/175 (where L = span of the framing member between anchor points) or 19 mm (3/4 in.), whichever is less. Due to the nature of the fire-rated glass, deflection is limited to L/300. This may not be critical for interior applications where the only wind load is from mechanical systems, but it becomes important when designing fire-rated curtain walls for exterior applications.
Regarding installation, it is helpful to keep in mind many frames in fire-rated glass curtain walls are shipped as knock-down (K-D) kits ready for onsite assembly. While frame components may be pre-assembled or welded in the factory, pre-assembly is often done on a case-by-case basis. If pre-assembly is critical to a job's timeframe, one should verify the manufacturer has the resources to assist with this process.
Conclusion
While one of the primary advantages of selecting a fire-rated glass curtain wall system is the ability to do more with less, aesthetic goals should never come at the cost of safety. Manufacturers and suppliers are available to help problem solve or create a custom work-around to balance life safety with design goals.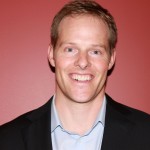 Jeff Razwick is the president of Technical Glass Products (TGP), a supplier of fire-rated glass and framing systems, and other specialty architectural glazing. He writes frequently about the design and specification of glazing for institutional and commercial buildings. Razwick is a past-chair of the Glass Association of North America's (GANA) Fire-Rated Glazing Council (FRGC). He can be contacted via e-mail at jeffr@fireglass.com.