Greenbuild wraps up 'Human X Nature' conference in Chicago
November 23, 2018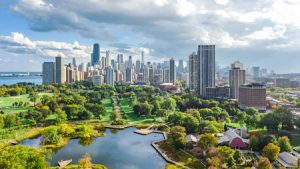 The Greenbuild international conference and expo, presented by the United States Green Building Council (USGBC),[2] concluded earlier this month in Chicago. The 17th edition of the conference explored the connection of the built environment to climate change, health, human rights, and equity.
The theme for this year's Greenbuild was 'Human X Nature'. According to Greenbuild, the theme represents how the green building movement embraces all of humanity by making sustainable buildings and environments accessible to everyone while benefitting the natural environment.
Human rights lawyer and humanitarian, Amal Clooney, delivered a keynote that discussed her work and spoke of the role the green building community plays in addressing today's challenges, "Despite [these] challenges, I am optimistic. Because all around the world I see that even where governments fall behind, individuals and companies can make a difference," said Clooney.
"In the past, we have delivered on our promises of certifications, signifying high quality spaces in which we can live and work," said USGBC's president Mahesh Ramanujam[3]. "Now, by harnessing the power of our partnerships with companies and organizations the world over, we will explore creating a new campaign, a Living Standard[4] that indicates an environment is healthy and safe for all who inhabit it, from buildings, communities, cities, and to entire nations."
Several programmatic updates to the Leadership in Energy and Environmental Design (LEED[5]) rating system were announced throughout the week.
LEED Transit rating system
USGBC released LEED standards for new transit stations. With LEED Transit, owners can reduce their environmental footprint, while also engaging riders on the importance of sustainability and the opportunity the public transportation sector has in minimizing greenhouse gas emissions.
LEED Zero Certification
USGBC introduced a new LEED Zero certification[6]. The new program recognizes buildings or spaces operating with net-zero carbon emissions from energy consumption and occupant transportation to carbon emissions avoided or offset over a period of 12 months. LEED Projects can achieve LEED Zero certification when they demonstrate net-zero carbon emissions, net-zero energy use, net-zero water use, or net-zero waste.
Integration of STAR and LEED for Cities and LEED for Communities
The STAR Community rating system that offers certification for sustainable communities has been fully integrated into USGBC's LEED for Cities and LEED for Communities programs, to help advance sustainable cities and communities worldwide.
LEED Recertification
USGBC announced it will begin offering LEED recertification. All LEED projects, past, present, and future, are now eligible for recertification by providing 12 months of data that shows consistent or improved performance, using the most recent version of the LEED rating system. This recertification will be valid for three years.
Endnotes:
[Image]: https://www.constructionspecifier.com/wp-content/uploads/2018/11/Opener-17.jpg
(USGBC),: https://new.usgbc.org/
Mahesh Ramanujam: https://www.usgbc.org/people/mahesh-ramanujam/0010539283
Living Standard: https://livingstandard.org/
LEED: https://new.usgbc.org/leed
LEED Zero certification: https://www.constructionspecifier.com/usgbc-launches-program-to-address-net-zero-carbon-green-buildings/https:/new.usgbc.org/leed-zero
Source URL: https://www.constructionspecifier.com/greenbuild-wraps-up-human-x-nature-conference-in-chicago/
---