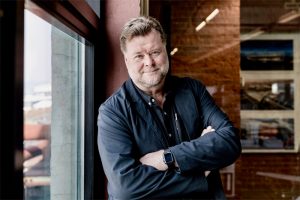 Global practice Grimshaw Architects has a new chairman. Andrew Whalley takes over the leadership reins from Nicholas Grimshaw, who founded the practice in 1980.
"Andrew has worked closely with me for over 33 years and has been involved in many of our key projects," said Grimshaw. "He has undertaken the role of deputy chairman for the last eight years. I will continue to make available my experience from the last 50 years in practice."
Whalley's award-winning projects include the International Terminal, the Eden Project, and the redevelopment of the historic Paddington Station, all located in the United Kingdom, and the Experimental Media and Performing Arts Center in Troy, New York.
"I am thrilled to be fostering another generation of the Grimshaw practice in pursuit of innovative design solutions that address the complex contemporary challenges that we face," said Whalley.
The practice has also appointed Annelie Kvick Thompson and Andrew Byrne as partners in their London (United Kingdom), and Los Angeles (California) studios.
Thompson joined the practice in 1997, bringing key experience to many of Grimshaw's international projects, and she has been involved in a diverse range of schemes around the globe.
After 12 years working with Grimshaw in London, Byne relocated to Los Angeles in 2017 to fulfil the practice's strategic ambition to establish a studio on the West Coast of the United States.