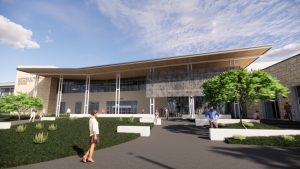 Construction management firm Adolfson & Peterson Construction (AP) and the city of Allen, Texas, broke ground on the Stephen G. Terrell Recreation Center—a two-story, 13,935-m2 (150,000-sf) facility.
"We collaborated closely with the City of Allen throughout the preconstruction and estimating process to make the most out of taxpayer dollars while also ensuring the project is built in a safe, timely manner," said Will Pender, AP regional president.
Allen City Council approved $40.4 million to begin construction, culminating five years of collaboration between the city and its residents. AP and Barker Rinker Seacat Architecture (BRS) joined efforts for design and construction purposes. Project planning began in May 2016 when Allen voters approved $27 million in bond funding for Parks and Recreation capital projects, including $16 million proposed for a future park and recreation center.
"This day is the culmination of more than 20 years of strategic planning and input from countless community members," said Allen Mayor Ken Fulk. "This facility will be a true community gathering place and we are thrilled to see it finally come to fruition."
Slated to open in early 2023, the recreation center's amenities were selected by Allen residents through public meetings, workshops, and online surveys. Amenities include two gymnasiums with three recreation courts and up to eight competitive play courts, an indoor walk/jog track, weights and cardio areas, and group fitness areas.
Various indoor play spaces, an outdoor fitness deck, a community space with classrooms and collaborative areas, a children's watch area, and a catering kitchen will allow additional spaces for the community to engage in a range of fitness and recreational activities. The facility will also include parking areas and driveways to accommodate residents and their guests.
BRS was selected as the architect of record to work with the community in fall 2018. The Denver-based firm has a local office in nearby Grapevine and was chosen due to its expertise and understanding of innovations in multi-generational recreation and community center design.
BRS lead the initial public meetings to select the project amenities and developed the building's concept while working in collaboration with the city's steering committee and leadership team, culminating in a full architectural design focused on the community's character that is 'Authentically Allen.'
"A key feature to the design was creating several gathering spaces of varying sizes to foster socialization, large and small, around the activity areas of the facility to bring people together," said Kevin Armstrong, principal, BRS. "At the heart of the center is a large atrium with a vibrant indoor play tower that will extend up to a central rotunda filled with an abundance of natural daylight. This space is envisioned to be a community living room with a variety of areas for both play and rest for all ages."