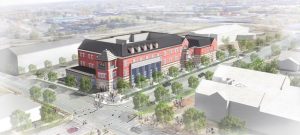 At a time when many higher-education capital projects are on hold, Missouri's Drury University offers a glimpse of a more hopeful future. The university broke ground on the institution's first new academic building in two decades, designed by Cooper Robertson in collaboration with the firm Trivers.
Called Enterprise Center, the three-story, 5268-m2 (56,700-sf) complex is an early milestone in the implementation of Drury's recent campus masterplan, also led by Cooper Robertson.
Envisioned as an academic and community hub, the new building includes space for Drury's business and political science academic programs, as well as for high-tech student collaborative areas, facilities for guidance services, and an executive conference center. The conference center and flexible event space will be used extensively by the entire Drury campus as well as the greater Springfield, Missouri, community, thereby reflecting the masterplan's goal of more tightly weaving Drury University into the fabric of its surrounding neighborhoods.
"The Enterprise Center is true to the underpinnings of the masterplan that envisioned it," said John Kirk, AIA, partner at Cooper Robertson. "It will be a state-of-the-art facility, befitting Drury's mission, one that is forward-thinking and creates the environment and opportunity for highly interactive, intimate, and engaged experiential learning."
The Enterprise Center is anticipated to host its first classes in 2022.