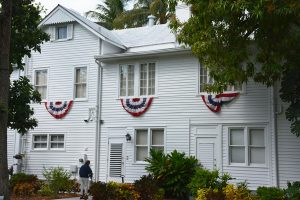 Florida's only presidential museum gets a new roof. The Harry S. Truman Little White House in Key West will is restoring its historic roof. It was last replaced in 1911, but it endured considerable damage from Hurricane Irma. During the 2019 Florida Legislative session, Representative Holly Raschein and Senator Anitere Flores sponsored a request by the Key West Harry S. Truman Foundation to replace the roof and secure related moisture issues. The Florida Legislature included the request in the final budget, which was then presented to and signed by Governor Ron DeSantis with final amount totaling $339,000 to help preserve the Little White House.
Originally Navy property from 1890, the Little White House was known as 'Quarters A & B' to house the Paymaster and Commandant of the Navy Base. The house was converted in 1911 to a single-family home for top military brass and known as 'Quarters A'. Most notably, Harry Truman spent 175 days of his presidency running the country from Key West Florida. Today the house now contains 80 to 90 percent of the original Truman artifacts.
As the State of Florida's only presidential museum, the Harry S. Truman Little White House is committed to providing visitors and the Key West community with programs about Truman's legacy and the American democratic process.