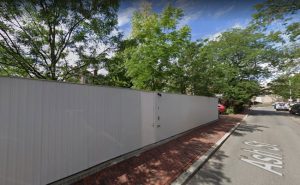 The Harvard Graduate School of Design (Harvard GSD) will change the name of the Philip Johnson Thesis House, Cambridge, Massachusetts, to simply 9 Ash Street, its physical street address.
The decision comes a few days after the Johnston Study Group, a mostly anonymous online organization "studying the legacy of a 20th century white supremacist who founded the most significant modern architectural institutions in the United States," wrote a letter to the Museum of Modern Art (MoMa), Harvard GSD, and several other  nonprofits in the country to "remove the name of Phillip Johnson from every leadership title, public, and honorific of any form."
"There is a role for Johnson's architectural work in archives and historic preservation. However, naming titles and spaces inevitably suggests that the honoree is a model for curators, administrators, students, and others who participate in these institutions," the letter said.
Harvard GSD dean Sarah M. Whiting responded to the concerns. She clarified through a letter that Harvard GSD owns the private residence which Johnston designed and built for his thesis project at the university when he attended the school in the 1940s. "At the university, the house does not have an official name on record, although it is usually referred to as the Thesis House, or the Phillip Johnson Thesis House, or some variation," she said.
"We do not pretend to think our work, as a school, ends here. At the GSD, we are committed to doing our part to bring much-needed, long-overdue change to the field, and yet he is also just one figure among the entrenched, paradigmatic racism and white supremacy of architecture," Whiting wrote. "Undoing that legacy—of the field, not only of Johnson—is arduous and necessary, and as a school and community we are committed to seeing it through."