Durable
A floor material needs to be able to withstand wear, pressure, and damage—concrete can do all this, but only if done correctly. All floor materials will eventually show signs of wear given an extensive amount of traffic, but a hard and dense surface is essential to keeping this minimal. When the top surface of concrete is densified by way of microscopic crystallization, the upper portion of the slab becomes extremely hard and abrasion-resistant. Sealers or other temporary topical finishes are very soft, and will scratch and wear away quite easily.
Maintainable
Densification of the surface also contributes to concrete's ability to reject dirt and liquids. Produced correctly, concrete is inherently resistant to contaminants. What stays on the surface is easily removed. Spills that do not have a chance to get into the pores beneath the surface do not get the chance to become permanent.
Therefore, routine maintenance becomes much easier and more likely to occur regularly. Rather than create slabs needing constant reapplication of coatings or sealers that mitigate moisture and vapor transmission, one should design a slab that performs so the requirements for the material and labor are reduced.
Slip-resistant
While the expectation may be a smooth surface is slippery, this is not necessarily the case—both Occupational Safety and Health Administration (OSHA) and National Safety Council (NSC) list uneven walking surfaces as a bigger cause of trip hazards. Further, a refined concrete surface without sealers, waxes, and cleaning surfactants provides 
a safe dynamic coefficient of friction (DCOF). With the growing numbers of baby boomers reaching retirement, it is critically important design/construction professionals raise the standards for both flatness and levelness.
Sustainable
As a result of the combined characteristics mentioned in the preceding sections, a concrete slab designed to keep out moisture will provide a very long-lasting flooring solution requiring minimal maintenance to keep its natural beauty throughout the entire life cycle of the facility (Figure 4). If in case the floor ever does become covered with some other surface-applied finish, it has a much better chance of recovery when the applied flooring has worn out and needs to be removed.
An added benefit of concrete that naturally maintains its volume is its natural moisture mitigation attributes. This is a huge cost saving advantage where there will be installation of moisture-sensitive floorcoverings such as tile, carpet, or epoxy coatings.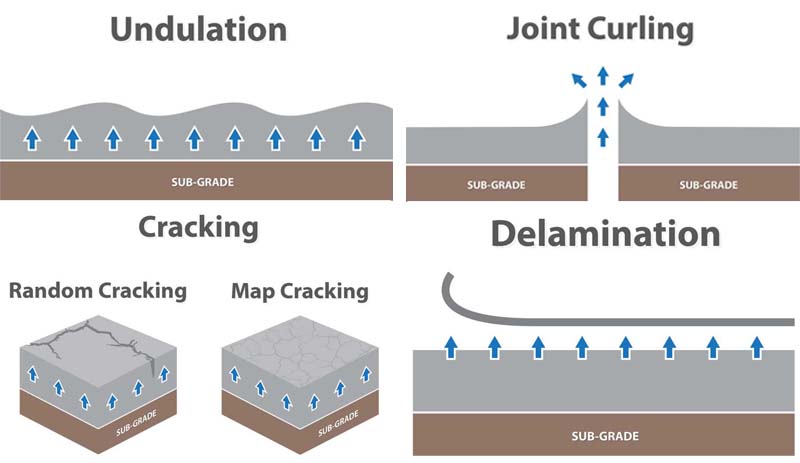 Resilient
In the past, the industry has counted on coatings, sealers, and epoxies to keep moisture in a slab. However, it is possible to create concrete naturally exceeding ASTM E96, Standard Test Methods for Water Vapor Transmission of Materials, and ASTM C309, Standard Specification for Liquid Membrane-forming Compounds for Curing Concrete. This can be achieved through use of nano-infused cements, hydro-cements, and other similar technologies that mimic ancient Roman concrete in performance, but without the long cure times.
By controlling volume loss, both structural and aesthetic concrete problems diminish over the lifetime of the facility. In Bill Gate's Fortune review of Robert Gordon's The Rise and Fall of American Growth, he talks about new "super cement" that will allow us to "build infrastructure that lasts 10 times as long as the cement rebar approach." Nano-infused cements, hydro-cements, and other similar based technologies are fundamental elements of this technology; it also diminishes unwanted elements such as curling, floor undulation, cracking, and slab discoloration.