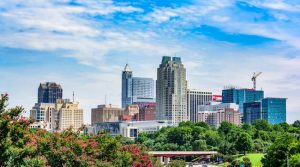 Henning Larsen and Ratio have been selected to design the East Civic Tower, a city hall in Raleigh, North Carolina. This tower is the first phase of the city's strategic plan and will consolidate city functions and feature public services as well as other amenities.
"We are honored to work in the thriving city of Raleigh to create a modern workplace, and at the same time, a building that invites great public service," said Michael Sørensen, director at Henning Larsen Architects' New York office.
The architectural design will be led by Henning Larsen (New York) and delivered by Ratio (Raleigh). The team will be supported by individuals from North Carolina firms and women and minority-owned businesses, including:
Lynch Mykins for structural engineering;
Barrett Woodyard Associates for mechanical, electrical, plumbing, and controls;
Lerch Bates for vertical transportation;
Carolina Specialty Engineering for code consulting;
FX Design Group for TV studio design;
SM&W for acoustics, audio-visual, information technology (IT), and security;
F&R for geotechnical;
SEPI for site/civil engineering;
MBP for cost consultancy, scheduling services, and Leadership in Energy and Environmental Design (LEED) commissioning; and
Davenport for traffic engineering.