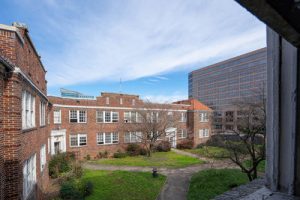 A revival project is underway to restore the 90-year-old Winnwood Apartments in Midtown Atlanta, Georgia.
Built in 1931 by H.W. Nicholes and Sons, the complex features a two-story brick Georgian Revival-style building, along with a courtyard in the garden style—a multi-family residential design synonymous with early-to-mid-20th century architecture. It is one of the last of this style in Atlanta.
Led by revitalization company GBX Group LLC, in partnership with Urban Landings and Easements Atlanta, the refurbishment will feature nearly 50 micro and one-bedroom units with modern amenities, all within a few miles of the city center.
"The historic properties that occupy valuable real estate, particularly those in urban areas, are often demolished in the name of progress," said Drew Sparacia, chief executive officer of GBX Group LLC. "Those buildings, many with rich architecture and ties to their local communities, offer untold potential if rehabbed correctly. We've seen it time and time again across the country, and we're confident we'll see it with this project for the Midtown Atlanta area."
Construction for the revitalization project is expected to wrap up in late 2022.