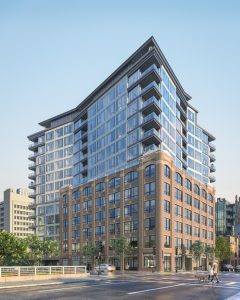 Designs have been revealed by the Architectural Team (TAT) for 100 Shawmut Avenue, a 138-unit condominium community in Boston, Massachusetts, which integrates adaptive reuse and new construction simultaneously.
Located in Boston's South End Landmark District, the project transforms an existing six-story brick warehouse structure into a new 21,554-m2 (232,000-sf), 13-story luxury residential landmark through a contemporary yet contextual addition.
Drawing inspiration from its neighborhood's industrial past, TAT's design maintains the character of the streetscape and the original building, setting the new L-shaped structure back from a  restored warehouse façade to highlight the latter's historic form and profile.
The angular, gridded pattern of the new façade further highlights a distinction between old and new, adding visual drama and creating terrace space for upper-floor residential units.
The project's amenities emphasizes outdoor areas including planned ground-floor café or restaurant space, a rooftop deck, and ninth-floor terrace with views of the Boston skyline, as well as a three-story parking garage and bike storage.
Part of a larger eventual three-building development, 100 Shawmut Avenue and the two adjacent parcels are sited to form a large, publicly accessible internal courtyard which provides outdoor amenity space and creates north-south and east-west public pedestrian routes connecting to the surrounding neighborhood.
"As development accelerates in Boston's South End, innovative design solutions ensure that the neighborhood maintains the best of its historic character while thoughtfully moving into the future," says Michael E. Liu, AIA, NCARB, principal at TAT.
Completion of 100 Shawmut Avenue is expected in fall 2020.