Hong Kong University's new Shaw Auditorium opens its doors
by brittney_cutler | November 22, 2021 10:41 am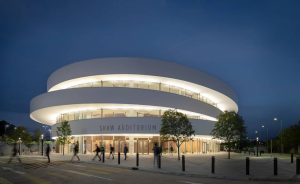 The Hong Kong University of Science and Technology (HKUST) opened the doors to its newly built Shaw Auditorium on November 17, as part of a grand opening ceremony celebrating the university's 30th anniversary.
The building was designed by Henning Larsen in close collaboration with Wong Tung and Partners, WSP Hong Kong, Theatreplan, Marshall Day Acoustics, URBIS, Inhabit, CTA, and RLB.
The auditorium stands at the gateway to the campus, between the academic faculties and neighboring community.
Visitors are shaded and sheltered from the rain by the building's cantilevers, which draw on the vernacular colonnades and canopies of Hong Kong's traditional architecture. The venue can be adapted to accommodate a wide range of events, from a live orchestra to amplified concerts, talks, gala dinners, and exhibitions. A proscenium can be lowered to frame the stage for theatre and ballet, and the rectilinear plan brings the audience close to the performers. The seating can be configured to fit 840 or 1300 seats, or stored to provide an open surface for conferences, open days, and exhibitions. Its curved walls can also function as a 360-degree projection screen, enabling audio-visual experiences.
The passive shading is part of a BEAM Platinum environmental strategy. Other measures include a district cooling system, photovoltaic panels over more than half the roof, lighting control, and DC motors fan coil units.
The building also includes lobbies, a café, classrooms, and circulation spaces conceived as an informal social focus for the campus, where students can meet, study, and relax.
Endnotes:
[Image]: https://www.constructionspecifier.com/wp-content/uploads/2021/11/BC_HongKong.jpg.jpg
Source URL: https://www.constructionspecifier.com/hong-kong-universitys-new-shaw-auditorium-opens-its-doors/
---