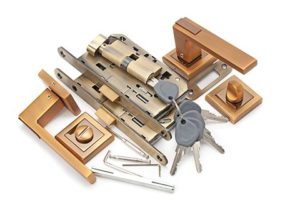 Far too many design/construction professionals fail to pay enough attention to door hardware—it does not matter how it is operated, whether a push, pull, knob rotation, or depression of a push bar, it is too often given short shrift as just a means to get to the other side. Fortunately, there is an industry standard to provide guidance to design and construction professionals.
The Door and Hardware Institute's (DHI's) Sequence and Format for the Hardware Schedule is specifically named for hardware schedules, but the same sequence and format is typically used for specifying door hardware sets in Division 08 architectural specification documents. The specification documents are typically the architect's responsibility, coordinated with a DHI-certified architectural hardware consultant (AHC), and used to estimate and understand what doors and hardware are required on a project.
Once it is determined what is required, the entity furnishing the doors and hardware (e.g. a door and hardware distributor supplying through a general contractor) is responsible for the hardware schedule. This schedule is typically created from the specification and in conjunction with the drawings and is submitted back to the architect for approval prior to anything being ordered, furnished, or installed on the project.
The DHI Sequence is helpful with assisting anyone in the construction industry working with architectural door hardware. It brings a basic understanding of all the components and how they are applied to work with the total door opening. The topic is covered in greater depth in The Construction Specifier's newest sponsored e-book, "Unlocking the Secrets of Door Hardware." To download it, visit http://www.constructionspecifier.com/ebook/hafele-unlocking-the-secrets-to-door-hardware-e-book.