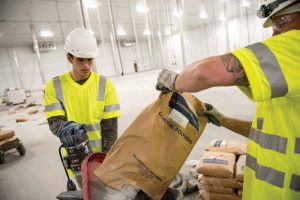 Avoiding application mistakes
Successful resinous flooring installations are also dependent on correct jobsite mixing of coating components prior to application (Figure 10). Mixing issues are possible, but installers can save time and cost if they can pinpoint the mistake
and correct it.
Common mixing mistakes include:
Forgetting to add the Part B side of the coating, so it never sets up. Part A is the resin and Part B is the catalyst which causes a reaction with Part A. The combined materials cure and harden.
Reversing the ratio of Part A to Part B. This causes an epoxy to remain sticky, and urethanes and polyaspartics to become more like moisture-cured coatings.
Mixing the wrong ratio. This may still enable a coating to become hard, but it will never meet its advertised physical properties or chemical resistance. Such improperly mixed coatings will also attract dirt and are prone to staining.
Accidentally mixing the wrong ingredients, such as applying a urethane or polyaspartic over a wet epoxy. This will rob the amine from the epoxy and it will never cure, leading to a potential bond break and delamination of the coatings.
Conclusion
Improper surface preparation is the primary cause of failures when installing a monolithic resinous floor. If surface preparation is done incorrectly, installers must completely remove the flooring and start over. Other potential failure modes such as moisture, cracked cement, and application mistakes can typically be addressed as the project progresses. Working with a knowledgeable representative from a quality supplier along with a qualified contractor can help facilities thwart problems before they happen. Further, if issues arise, these experts can provide valuable insight to help keep projects on schedule.

Author
Mark Merrifield is a business development manager for Sherwin-Williams High Performance Flooring. His responsibilities include delivering specification and technical support to customers and the company's salesforce. Additionally, he is responsible for market opportunity and market development within the resinous flooring and wall coatings business. Merrifield has more than 35 years of resinous coatings experience, including 20 years with the Sherwin-Williams Company, previously serving as a sales representative and a technical service manager, during which he assisted on numerous projects and conducted national and international training sessions. He can be reached at mark.merrifield@sherwin.com.