by Shane Scranton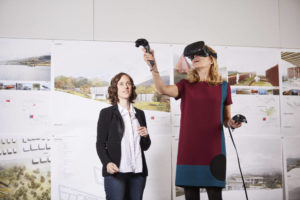 The construction industry is incredibly complex, requiring thousands of carefully organized moving parts to be successful. From working with multiple stakeholders to coordinating with suppliers and construction teams, the industry has its own challenges, difficulties, and inefficiencies. Virtual reality (VR) technology can be a powerful tool to address many of these pain points across all aspects of a project.
The architecture community has been relatively quick to adopt virtual reality. In the early stages of a project, VR allows architects to quickly and easily understand how a building will look and feel so they can evaluate design options and create better spaces. This also allows architects to better communicate with their clients, who may have a difficult time understanding how traditional floor plans and models translate into the real world.
With advancements in VR technology, clients can now walk through their projects with a better comprehension of their future space, allowing them to articulate design preferences before construction. Not only does this save time, money, and energy, but it also helps strengthen client relationships by streamlining communication. In an industry that relies on repeat business and referrals, VR could be a game-changer.
VR's communication benefits lend themselves perfectly to the construction industry. Contractors can better understand the overall vision and space, and identify any project dependencies or hurdles upfront. Virtual reality can also be used for project reviews throughout phases of a project. These types of reviews allow for better understanding of progress, leading to more efficient onsite project management and communication with suppliers, construction teams, and stakeholders.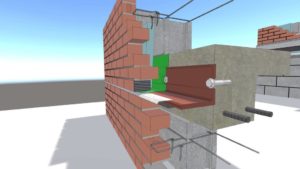 Additionally, VR eliminates the need to build anything prior to walkthroughs with the end-users of a space. While this is valuable for any type or size of project, it is increasingly helpful for large industrial parks or medical facilities, where the flow of space and utility go hand-in-hand. For example, in building a hospital, physicians and other stakeholders may participate in walkthroughs of partially constructed operating rooms or patient areas so they can get a feel for where machinery, monitors, and tools will be placed. If they find an inefficiency or flaw, plans need to be altered and structures need to be rebuilt. VR eliminates this problem entirely by allowing the space to be explored much earlier in the design phase of a project without the investment of money or time. This often has a positive impact on the bottom line and can help create safer spaces.
While safety is crucial at the design level, it is also an important factor to consider at the outset of any construction project. Historically, construction has been one of the leading industries for on-the-job injuries. Virtual reality can be used to help prevent these types of incidents. Modeling out onsite conditions, such as the position of equipment, the location of other crews in the surroundings, and other dangerous scenarios, can help workers familiarize themselves with their future work environment and construction plans. This increased spatial awareness can lead to increased site safety—without having anyone set foot onsite.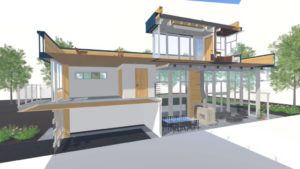 Though VR technology is still relatively young, many firms across the architecture, engineering, and construction (AEC) industry are reaping the benefits of virtual reality walkthroughs, and industry experts expect adoption to increase exponentially in the next few years. Getting started with virtual reality is a simple process. There are two head-mounted display (HMD) options for fully immersive, desktop VR on the market: the Oculus Rift and HTC Vive. Both are similarly priced, have comparable functions and capabilities, and operate when plugged into a powerful computer.
Some construction firms already using VR have set up computers and headsets in trailers onsite. These configurations offer the most stable VR environment, and completely envelop the user in virtual surroundings. Once the team has a headset and computer set up to enter virtual reality, the next step is converting 3D models to virtual reality experiences. This process can be automated through software.
In the future, as virtual reality technology advances, it will become wireless and more lightweight, making it easier to transport, set up, and use in the field. Additionally, new features such as fully immersive, multi-user VR will enable multiple individuals in different locations to enter the same model in VR together. This technology will connect users by voice audio and their shared virtual environment, expanding on the concept of in-person meetings and streamlining both design and communication processes.
These future developments are exciting for the AEC industries as leaders in these sectors look to enhance their businesses with virtual reality. It is only a matter of time before the technology becomes an essential part of the construction process.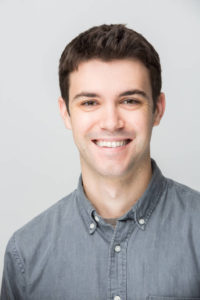 Shane Scranton is the CEO and co-founder of IrisVR, a venture-backed software startup in New York City building virtual reality applications for architecture and construction. Prior to this, he was a designer working with 3D rendering technologies.