Hunt on for new architect of the capitol
by sadia_badhon | February 4, 2019 2:45 pm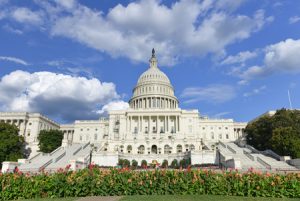 According to a report in Roll Call[2], the Senate has begun searching for a new architect of the Capitol[3] (AOC). The previous architect to hold the position, Stephen Ayers, FAIA, stepped down in November[4].
A 14-person team lead by Sen. Roy Blunt of Missouri and the chairman of the Senate Rules and Administration Committee, agreed to hire Maryland–based executive search firm JDG Associates[5] to select candidates to present to the president.
According to a job posting [6]on nonprofit Construction Management Association of America[7]'s (CMAA's) website, candidates must have at least 20 years' experience in facilities and construction management, architectural training, and understanding and/or training in historic preservation, among other requirements.
Once appointed by the president and confirmed by the Senate, the AOC is tasked with overseeing the preservation and maintenance of more than 1.6 million m2 (17.4 million sf) of facilities and 235 ha (580 acre) of grounds on the Capitol campus. This also includes the House and Senate office buildings, the Library of Congress, the Supreme Court, and the Thurgood Marshall Federal Judiciary Building, among other historical facilities in and around the Washington, D.C. over a 10-year term.
"We hope to do this as quickly as we can," Blunt told Roll Call, likely referencing the three-year period from 2007 to 2010 when no AOC was confirmed. "My understanding is that we are ahead of where this process was at this time last time. I hope we wind up with nominees that are actually all willing to take the job, which did not happen last time."
Endnotes:
[Image]: https://www.constructionspecifier.com/wp-content/uploads/2019/02/Opener-1.jpg
Roll Call: https://www.rollcall.com/news/congress/architect-of-the-capitol-job
architect of the Capitol: https://www.aoc.gov/
stepped down in November: https://www.constructionspecifier.com/architect-of-the-capitol-steps-down/
JDG Associates: https://jdgsearch.com/
job posting : https://careerhq.cmaanet.org/jobs/11915825/architect-of-the-capitol-us-congress?utm_source=BTITwitter&utm_medium=Twitter&utm_campaign=BTI%2BTwitter%2BFeed
Construction Management Association of America: https://www.cmaanet.org/
Source URL: https://www.constructionspecifier.com/hunt-on-for-new-architect-of-the-capitol/
---