by John Boland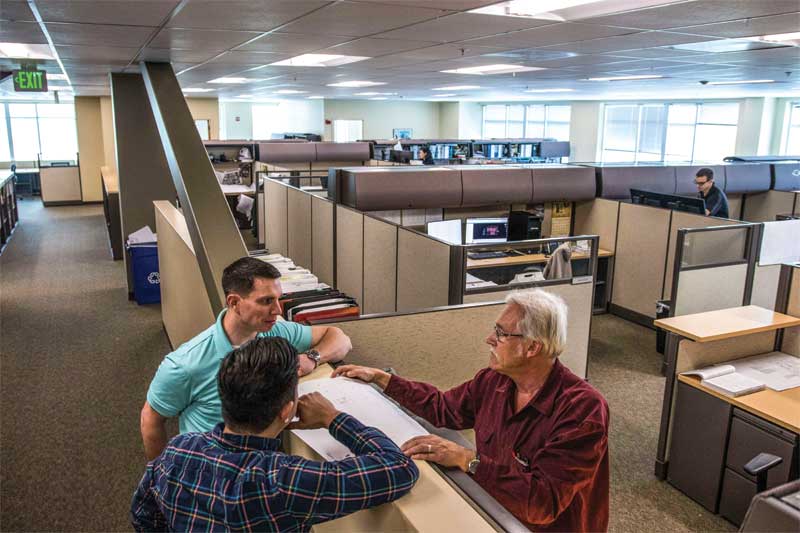 The quest for energy efficiency should not stop after a building is certified under the Leadership in Energy and Environmental Design (LEED) program. Technologies capable of reducing energy costs continue to evolve and are in a state of flux. Therefore, there is always potential for improvement upon the technology used in a LEED-certified building. Perhaps no area of building technology has improved so rapidly as the lighting industry.
Technological advances in features such as occupancy sensors, lamps, light-emitting diodes (LEDs), daylight sensors, and dimmers have evolved to provide greater energy efficiency and control than ever before, all while becoming increasingly cost-effective for building owners. One engineering firm headquartered in a LEED-certified building in Maryland decided to demonstrate its commitment to sustainability with a complete change-out of its relatively new light fixtures for a more energy efficient technology.
The details
RMF Engineering became the tenant of a new LEED-rated office building in early 2009. The four-story, 9735-m2 (104,791-sf) structure is located on the research and technology park campus of the University of Maryland Baltimore County (UMBC) in Catonsville, Maryland. RMF occupies the entire third floor and shares the remaining space in the building with 12 tenants. The building has a generous number of windows on all four sides, providing significant amounts of natural daylight for occupants to enjoy.
The LEED Silver-rated building was originally equipped with 0.61-m (2-ft) and 1.2-m (4-ft) 120/277-volt ceiling fixtures, each with two, 54-watt fluorescent lamps. Each fixture utilized a perforated basket louver designed for 90 percent uplight and 10 percent downlight, and was constructed of half-round, flat, black-painted stamped steel. When fully energized, each 1.2-m fixture, using a standard ballast, would draw an average of 108 watts of electricity. The majority of the office workspaces include desks supporting computers with multiple flat-screen monitors employing a variety of computer-aided design (CAD) software packages for the design of complex buildings and utility networks.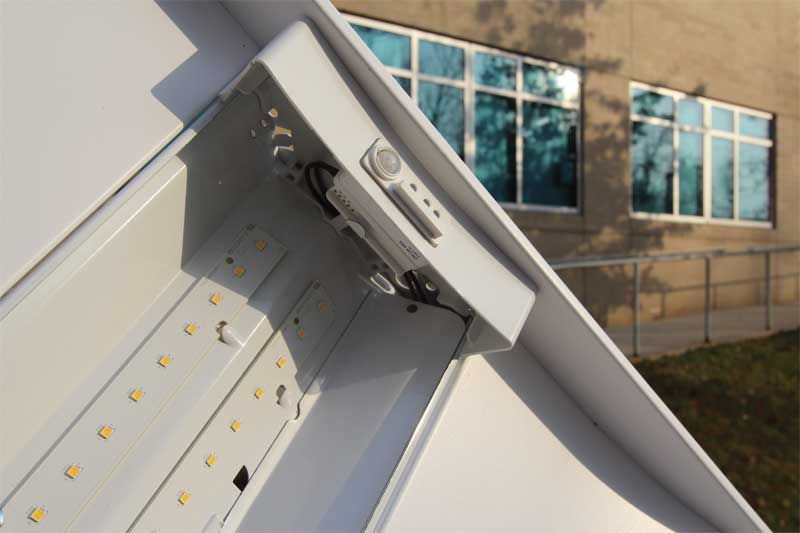 Over the course of several years, it became commonplace throughout the workspaces for employees to physically remove one or both of the lamps in the overhead light fixtures to create a more comfortable environment and gain more visual contrast on the computer terminal displays. The workstations are operated daily for precise CAD work on complicated diagrams and plans. In this environment, ceiling lights can create a challenge visually and can increase employee fatigue. Making the manual light adjustments aided productivity across the headquarters, especially during extended work hours in the early morning and late evening.
The measurable light levels at working surfaces typically ranged from 377 to 700 lux (35 to 65 footcandles [FC]) and were considered excessive by some occupants. The entire third floor utilized 344 lay in fluorescent fixtures including 0.61 x
1.2 m (2 x 4 ft) and 0.61 x 0.61 m sizes suspended in ceiling grids spaced 1.2 m (4 ft) apart, approximately 2.5 m (8.10 ft) above the finished floor. Zone occupancy sensors were also in place, controlling approximately 20 fixtures at a time.
It was observed employees needed more individual control of overhead light to create optimal working conditions. RMF's property manager at Corporate Office Properties Trust (COPT) consulted with a local light supplier to examine several options for replacing fixtures with new ones offering higher efficiency and more precise control for the office manager and employees. A LED fixture was, ultimately, selected.
The fixture is a low-profile, integrated LED with an optional sensor for detecting occupancy, vacancy, and daylight harvesting. The operating life expectancy of the selected unit is 100,000 hours and it provides up to 124 lumens per watt, making it premium-rated by Design Light Consortium (DLC). Other features included accessibility to the LED board from below the ceiling. The wireless programmable sensor allowing remote control for the office manager without hard-wired switches made the fixture especially appealing to COPT.