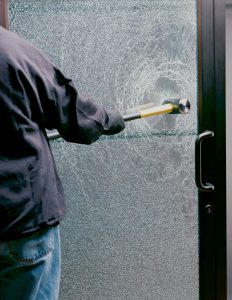 by Steve Wood
Building and occupant safety are at the top of every facility manager and business owner's mind in today's world. While construction executives have directed their attention to video surveillance products, alarm systems, perimeter fences, and security guards, one security measure is often overlooked: safety and security window film.
These films offer numerous benefits including:
quick installation;
24/7 passive protection; and
an enhanced barrier to entry for windows and doors.
Safety and security window film is a polyester-based product incorporating multiple layers of films laminated together for strength and durability, while utilizing an aggressive pressure sensitive mounting adhesive. Most films are applied to the interior surface of a building's glass windows. The product even includes a scratch-resistant coating on the surface protecting the film from damage due to abrasion.
Safety film is used in many applications, with increasing popularity in architectural and commercial installations. Various types of films are available in both clear and tinted varieties to meet the needs of every commercial building. Film offering solar control benefits are tinted with metals and dyes to reduce glare and block the sun's heat.
Safety measures for commercial buildings
Windows and doors are the most vulnerable parts of any commercial building, since they provide access and entry. With countless employees, confidential documents, and valuable assets, commercial buildings should have multiple safety measures in place. Window film adds a layer of protection against those looking for easy points of entry by delaying potential intruders. Safety and security films also offer protection from shattered glass.
Safety and security window films stand up to various threats, such as severe weather, riots, burglary, terrorism, and even bomb blasts, to varying degrees. These films, along with the appropriate window attachment systems, hold shattered glass in place, protecting occupants from dangerous flying shards. By holding the glass in place, the film also prevents intruders from entering through a window once it is impacted. This is especially beneficial in the case of damage from a storm, riot, burglary, or terrorism, so building owners need not worry about further damage taking place. While safety and security films do not protect against bullets, they do make it much more difficult for a shooter to break a window and insert a gun into the opening, thereby helping to prevent further harm from taking place.
The importance of testing
As with all safety measures, there are limitations to what a window film can do. Rigorous testing to the highest of standards is the only way to ensure the highest quality product for a specific building.
Independent testing facilities have extensively tested films to meet both domestic and international safety glazing criteria as defined by the U.S. Consumer product Safety Commission (CPSC) and European Norn (EN) 12600, Glass in building. Pendulum test. Impact test method and classification for flat glass. Additionally, specially designed films are used to mitigate the hazard of glass if an explosion were to occur. These films are tested with high explosive charges and shock tubes to simulate terrorism or industrial accidents. Government bodies, the General Services Administration (GSA), and standard organizations—International Organization for Standardization (ISO 16933, Glass in building – Explosion-resistant security glazing – Test and classification for arena air-blast loading) and ASTM International (ASTM F1642, Standard Test Method for Glazing and Glazing Systems Subject to Airblast Loadings)—have developed criteria for rating a glazing's response to explosions.
Comparing options in window safety
For all commercial buildings, a combination of safety measures, such as video surveillance and onsite security, in addition to window film, will provide the best results. Another option for window safety includes installing impact glass, which is less likely to shatter. However, the cost of impact glass on a large commercial project can be more than double the price of traditional glass and considerably more expensive than window film. Another common tactic for lower level windows is the use of metal bars to prevent entry. While this is a good safety measure to prevent burglary, it will offer little protection from a bomb blast, natural disaster, or major storm, as the impacted window will still create dangerous flying glass.
Solar control benefits of installing window film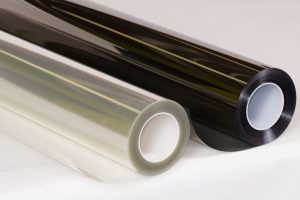 Window film has positive impacts for commercial buildings aside from the safety and security benefits. While offices favor natural sunlight and unobstructed views, the glare on computer screens becomes an annoyance and hindrance for the staff. Often blinds or shades are used to control glare, eliminating beneficial, natural lighting. The application of window film can reduce interior glare and alleviate eye fatigue, while maintaining the views and natural sunlight.
Window film also has the ability to lower energy consumption and reduce carbon dioxide (CO2) emissions, by keeping out up to 86 percent of the sun's heat. Installing window film can be a smart way to cost-effectively conserve energy, reduce heating and cooling costs, and enhance occupant comfort.
Window films in action
Baylor St. Luke's Medical Center in Houston underwent a comprehensive project to increase safety and security to better serve its patients and employees. St. Luke's facility has thousands of square feet of windows overlooking the city. Securing all windows became a top priority to offer patients protection from flying glass in case of a natural or manmade disaster. St. Luke's also wanted to add a level of protection to their state-of-the-art medical equipment. Window film was employed to enhance the existing window glazing.
More than 6039 m2 (65,000 sf) of security film was professionally installed to meet St. Luke's needs. St. Luke's chose a film and attachment system designed to hold broken shards of glass together. Systems like these provide 24-hour protection against vandalism, severe weather, industrial accidents, and other forms of unforeseen events.
Millions of Americans head into commercial buildings every day for work, shopping, eating, and more. Developers and specifiers need to ensure these buildings are safe and secure for all inhabitants. Safety and security film is one safety measure to consider when looking to improve an existing building or develop a new one.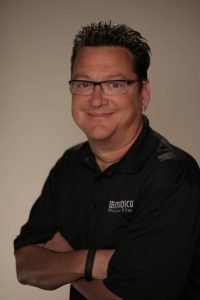 Steve Wood is a program manager at Madico Inc. He has been in the window film industry for more than 30 years, starting his career in 1984 as a shop owner in the Dallas and Fort Worth areas in Texas. After owning his own stores for more than 15 years, Wood began working in corporate roles for U.S. film manufacturers. He can be reached at swood@madico.com.