by Jason Newby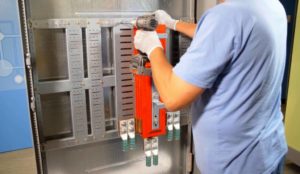 When it comes to the power panel industry, new design approaches by manufacturers have upended fairly established design, manufacturing, and deployment conventions, including the following ideas:
It is more economical to specify power panels fully assembled and shipped by third-party manufacturers than to employ onsite assembly.
Installation workaround fixes are an unavoidable fact that must be built into the cost and timeline of every electrical job.
Futureproofing power systems requires designing costly additional features, capacity, and functionality into initial specifications.
Like all good industrial design, customer-driven product development in the electrical power industry is a continuous cycle of steps: define, build, measure, learn, and redesign. Recently, customer-centric design approaches have yielded advances in new modular and pluggable power panel designs that are changing the way electrical specifiers evaluate, design, and bid out their power systems.
Identify the problem, then ask again
All concepts begin by identifying a problem or an opportunity. Very often, the scope of these problems is restricted because they are only viewed through the lens of an existing process. In the case of electrical power panels, that process involves the owner or builder, the specifying engineer, and eventually the bidding contractor, who places the order.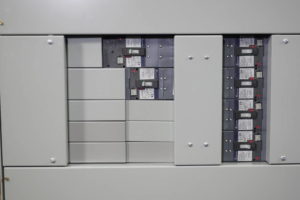 Within that traditional procurement cycle is an important customer concern and limitation—namely, how to respond to changes in power requirements arising between the time a unit is specified and when it is delivered and installed. It is common for power requirements to change (e.g. due to an expanded wing in the building, an upgrade in an HVAC system, or new demands for a data center), meaning expensive and time-consuming field fixes are needed to manually swap out circuit breakers or components and reinstall new equipment. A single lug-wired circuit breaker installed by the manufacturer, for example, can take up to 30 minutes to pull and rewire on a jobsite, assuming all the parts are available.
At first, it is easy to assume the power panel customer's primary concern is getting the lowest initial cost from a pre-assembled power panel. However, a more customer-centric 'ask-again' view of the problem uncovers the larger issues of the time and costs involved in making fixes to panels during installation.
Similar in-field installation issues occur when panels are specified for a top power feed, but the actual cable installation at the site is wired for a bottom feed. The cost and two-week wait involved in reordering a panel box, or the time and delay required to recable the power feed, quickly become the more important concern.
Making a leap of faith together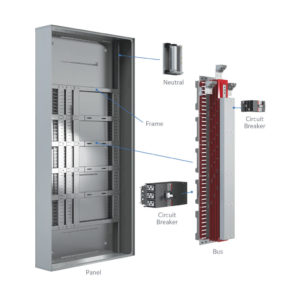 Customer-centric design can be applied to the trend toward newer modular power panels that are assembled on the jobsite and combined with pluggable components such as power bus bars and circuit breakers. In this case, it means having the faith to test the assumption a faster, more field-flexible assembly of power panels on the jobsite can be less expensive in the long run than the traditional pre-assembled version.
The concept of interchangeable or 'pluggable' power panel components such as circuit breakers or surge protection devices (SPDs) has been around for years. However, the norm is still to ship fully preconfigured, full-sized units to a worksite. These fully assembled power panel units are heavy and bulky, requiring labor-intensive handling and installation at the jobsite.
Some companies have worked with their electrical specifier and contractor customers to retool common assumptions about the economics of pre-assembled units. These cost-versus-value evaluations are shifting the thinking from 'install-what-we ship' standards to a new model of ordering, configuring, and installing what is needed onsite for power panels.
Considering the concept, economics, and viability of the modular, onsite-assembled model was the leap of faith that led to that model's prototyping. New modular concepts involved literally breaking down and decoupling each element, including the power boxes and back panels, doors and covers, power panels, bus bars, interior mounting systems, and interchangeable, pluggable components such as SPDs and circuit breakers.
Testing the premise
Some manufacturers solicit early input from customers, meaning they can uncover issues from the need for digital modeling and simplified ordering to the value of stocking and storing smaller, modular component cartons instead of full-sized units.
In one company's case, prototypes based on this input were developed and shared with those on both the electrical specification and contractor sides of the business. Sharing these early-stage systems revealed numerous opportunities to simplify design elements common to most power panels.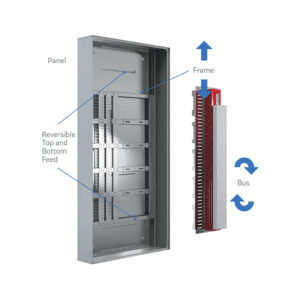 For example, most power panel enclosures have an exterior door protecting all the components and fittings on the panel interior, with a secondary panel or door protecting the circuit breakers and related components. This configuration—basically a door within a door—provides important access and protection, but with some costs. For instance, a specification calling for this configuration may be overspecified for the application, meaning clients will end up paying the premium associated with that specification when they may only need to have a door to cover up breaker handles.
This issue can be resolved in many simpler and more cost-effective ways. New design approaches, discovered during customer sessions, now include easy-to-install covers or panels protecting exposed spaces around the breakers, allowing effective protection without the need for the full exterior door system. However, customer feedback in the design process also called for the availability of both options depending on the application.
This end-to-end examination with customers of how a power panel moves from specification to installation also uncovered another opportunity to simplify, which cut installation costs and jobsite headaches. When specifying traditional power panels and related protection components, each circuit breaker used to require ordering corresponding lugs, strips, cover plates, and brackets, each with their own part number or SKU. Customers exploring the concept of modular power panels explained even the smallest misordered installation part for a simple circuit breaker could hold up a job for days.
Shifting to a modular platform where all components and requisite installation parts are prepackaged under a single SKU not only streamlines ordering, but also greatly reduces time and cost delays due to missing parts. This also assists with third-party testing of components prior to final installation. Like other assumptions, the idea that factory-assembled panels reduce missing parts problems shifted to favor onsite modular assembly options with the added benefits of easier handling, testing, and the flexibility to fix and upgrade in the field.
Engaging with customers in the concept and design process for modular and pluggable power panels also introduced additional options and flexibility for panel specifiers trying to future- proof systems in their initial specifications. Knowing power requirements frequently expand over time, power panels can sometimes be overspecified to meet future demands. For example, the cost of upgrading circuit breaker protection or adding new and mixed sizes and capacity is traditionally a labor-intensive process, often involving shutting down the power to part or all of a facility for several hours.
Modular power panels with pluggable circuit protection that installs in seconds instead of up to 30 minutes create an easier upgrade path for power designers, in which it is only necessary to specify what is needed now. Early customer-driven insight about the need to upgrade and add circuit breakers of mixed capacity and size in a single panel row also informed the modular design of power panel components.
The continuous cycle of customer-driven design
There is never an end point in the evolution of customer-centric design. It is a continuous cycle and ongoing partnership of listening, concept, trial, input, measurement and analysis, and next-step advances. While an evolution of power panel technology and use of pluggable and early modular power panel concepts has occurred, it is really a changing industry-market design collaboration that is bringing next-generation benefits to power panel platforms. Willingness to test assumptions and present new approaches gives construction specifiers more insight and control over their power design and planning.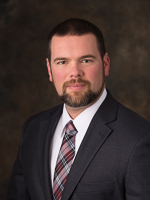 Jason Newby is a senior product manager for the power panel product line at GE Energy Connections' Industrial Solutions, where he has worked for eight years. He was previously a program manager for GE's low-voltage switchgear products and served in the U.S. Army as an aviator, rising to the rank of Captain. Newby received his bachelor's degree in mechanical engineering from the U.S. Military Academy and a master's degree in industrial process management from Rensselaer Polytechnic Institute. He can be reached via e-mail at jason.newby@ge.com.