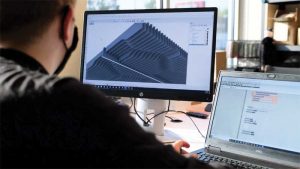 By Star Davis
Over the past several years, lighting has become more front-and-center in the early stages of architectural design—and for good reason. When integrating lighting into standard ceiling solutions, such as grid, drywall, and open-to-structure ceilings, traditional luminaire form factors, including troffers, downlights, recessed linear, and suspended products, are common and relatively straightforward to integrate.
However, as specialty ceiling products have emerged, with often complex, three-dimensional, and organic form factors, so have the challenges associated with the design and installation of integrated, functional luminaire solutions. Lighting designers and electrical engineers are now engaging earlier in the design phase of projects, as luminaire solutions fitting these specialty ceilings require product attributes outside of traditional technical lighting requirements, including textiles, acoustic characteristics, form factors, and the ability to seamlessly integrate with the chosen specialty ceiling design. Additionally, luminaire manufacturers, due to the aesthetic and technical challenges associated with integrated systems, are developing products which fit better in these emerging specialty ceiling systems and, in some cases, are even pursuing their own offering of integrated specialty lighting and ceiling solutions. As the market continues to demand more complex, parametric, heterogenous designs, the intense and iterative nature of the design process will require lighting and ceiling components to be designed cooperatively and interdependently to ensure the full ceiling system gets delivered as intended.
Background
The purpose of lighting—both natural and artificial—in the built space has always been to elevate the architectural environment, providing a level of functionality and visual comfort to space occupants, as well as enhancing unique and/or important attributes of the architectural design itself. With traditional, homogenous ceiling planes, including drywall and grid, functional lighting could primarily be accomplished via recessed luminaires, offering high function without the mechanical elements of the luminaire visible in the ceiling. Therefore, the focus of the lighting designer and manufacturer could mainly be on lumen output, light quality, light direction, energy footprint, and glare control, while ensuring the luminaire hardware would disappear above the ceiling plane. To assist contractors with the installation of luminaires and other critical ceiling components within the grid structure, many ceiling manufacturers innovated with novel grid solutions easily able to accommodate an array of lighting solutions. These technology zones enabled flexible placement of a variety of luminaire options while eliminating much of the aesthetic concerns and time associated with the installation process.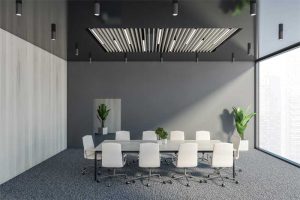 As the traditional grid ceilings began to disappear and open-to-structure space design gained in popularity, suspended luminaire options garnered a greater market share. Not only did suspended luminaires add requirements and provide more opportunities for light output, such as bidirectional optics, but they also became a more visible element in the space. As such, manufacturers increasingly focused on high-quality housing designs and streamlined suspension options.
Luminaire manufacturers and lighting designers also took advantage of this visual real estate to create interesting form factors and decorative housing designs, allowing for more than just the standard white good options to outfit these open spaces and environments.