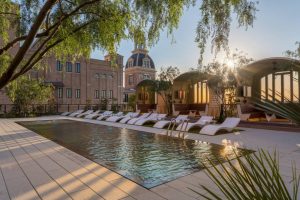 InterFace Active Adult, a symposium in Dallas, Texas, billed as the "A to Z on the hottest trend in senior housing," is listed as the first in-person event devoted entirely to the active adult niche.
Architect Rockland Berg of the Dallas-based firm Three, which specializes in senior living, is among several expert speakers set to discuss senior living complexities on August 4.
Even though active adult communities are among the fastest-growing yet most challenging for selecting and planning sites, Berg said the 55-plus cohort presents contradictions to designers and developers.
"These residents are physically active and relish time outdoors even as they're giving up yard chores and seeking purposeful lifestyles," said Berg, who has led the firm's senior-living design efforts for more than 25 years. "They are paring down their living spaces yet are drawn to apartments with open floor plans, spa baths, accessible storage, and connections to the outdoors."
According to Berg, these residents are attracted to communities with a variety of social venues on site, which includes robust shopping, dining, entertainment, and cultural diversions. While the active-adult housing sector is dominated by rental offerings, moves to these developments are often seen as long-term choices, so affordability and diminishing incomes are primary influences, added Berg.
Other fundamental planning considerations aim at providing the possibility of aging-in-place, including universal design and lean buildings conceived to transition with residents as their service requirements change.
As boomer populations come to dominate active-aging residential communities, Berg said their lifestyle choices will demand tailored, yet diverse hospitality and care services.
"Anticipating the requirements of a changing landscape of third-party service providers and associated technologies makes this a dynamic and challenging puzzle to solve," he said. "
While main-level living and architectural elements, such as island kitchens and large windows, hold wide appeal, it's a diverse demographic known to be sophisticated and demanding, especially with finishes and detailing.
Security and safety, wellness, and supporting hobbies or broader life goals round out the home qualities sought by the 55-and-over demographic. For many midlife renters and buyers, easy-to-maintain and adaptable layouts are essential, accommodating stays by returning children, grandchildren, older relatives, or caretakers.