FAILURES
Deborah Slaton, David S. Patterson, AIA, and Jeffrey N. Sutterlin, PE
Preformed silicone transition membranes are increasingly used to integrate fenestration components with the building's weather-resistive barrier (WRB). This is thanks to increasing recognition of their important role in maintaining WRB continuity at vulnerable transitions between dissimilar exterior wall systems. However, to take advantage of the benefits offered by transition membranes, it is necessary to understand the functional design of the fenestration and the WRB. This way, integration can be properly detailed and effectively implemented in the field.
Silicone transition membranes are recent developments in response to the need for a versatile product to bridge the gap (or joint) and accommodate minor planar offsets between the WRB and fenestration. Both WRBs and fenestration systems have proven track records regarding resistance to air infiltration and water penetration, but are manufactured by separate entities with little consideration for the adjacent construction. In addition to known challenges related to sealing the gap between the two systems, increased use of peel-and-stick sheet membranes for WRBs has resulted in compatibility and/or adhesion issues with traditional weathering sealants.
Although new sealants have been developed to address these issues, concerns remain related to their proper installation, such as sufficient bond surface, joint widths, and maintaining proper joint profiles. Early attempts to use peel-and stick type membranes to provide this transition met with mixed results, mainly due to the material's stiffness, which made complex changes in plane and direction difficult to execute.
However, silicone transition membranes are flexible, can be provided with prefabricated corners, and are often translucent—continuity of the sealant bonding the membrane to the substrate can be visually confirmed. As with any component of the exterior enclosure, though, proper design and implementation is critical to its long-term success.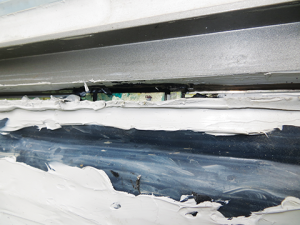 In addition to understanding assembly configurations and how fenestration manages air infiltration and water penetration, selecting appropriate sealants is critical to not only prevent problems with adhesion or compatibility between the transition membrane and the fenestration system or WRB, but also to provide an effective (and constructible) interface detail. The mechanic installing the membrane also plays an important role in the success of the integration detail and should clearly understand its rationale. As such, these details should be thoroughly reviewed during the shop drawing process and preconstruction meetings, and correctly executed through start-of-work mockups and testing to confirm effectiveness. Close attention to the design and implementation of transition detailing will better ensure long-term success of this critical interface and the building enclosure as a whole.
Deborah Slaton is an architectural conservator and principal with Wiss, Janney, Elstner Associates (WJE) in Northbrook, Illinois, specializing in historic preservation and materials conservation. She can be reached at dslaton@wje.com.
David S. Patterson, AIA, is an architect and senior principal with the Princeton, New Jersey, office of WJE, specializing in investigation and repair of the building envelope. He can be contacted at dpatterson@wje.com.
Jeffrey N. Sutterlin is an architectural engineer and senior associate with the Princeton office of WJE, specializing in investigation and repair of the building envelope. He can be reached at jsutterlin@wje.com.