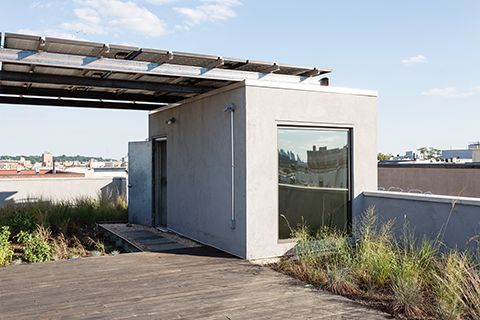 by Gita Nandan, RA, LEED AP
The architectural community is at a tipping point. Specifiers and their design teams are moving closer to super-energy-efficient performance across a spectrum of building types and portfolios, including the 'deep energy retrofits' of recent years. This is good news—U.S. commercial buildings account for 72 percent of domestic electricity use and 36 percent of natural gas consumption, according to a 2008 report by the U.S. Department of Energy (DOE), and they contribute an eye-popping nine percent of global greenhouse gas (GHG) emissions. A solution many architects and owners are turning to is Passive House, a relatively new standard focused on airtightness, high thermal values, energy-attuned material selection, and the use of natural ventilation and lighting.
Applying Passive House makes possible reductions in energy consumption as much as 90 percent, while still maintaining beautiful design and cost-effective construction. Extrapolated across every building in America, that means a potential reduction of at least 2.25 billion tons of carbon dioxide (CO2). Such lofty numbers aside, Passive House is coming into the mainstream as a standard that aids the building industry to minimize energy consumption and meet larger global goals.
Passive House has its roots in Europe, where in 1988 the Swedish professor Bo Adamson and German physicist Dr. Wolfgang Fiest, also later the founder of the Passive House Institute in Germany, originally developed the Passivhaus standard. After several decades, this movement has finally taken off, spreading from Central Europe to the United States and across the globe. Today, an estimated 50,000 structures have been built to these standards around the world, of which approximately 10,000 are certified—it is clearly a mainstream building path.
While many professionals associate certified Passive House buildings with the single-family residential market, over half are commercial buildings. These run the gamut from schools and natatoriums to multifamily complexes and office buildings, all created by project teams seeking to lower energy costs and consumption while providing durable, comfortable buildings suitable for the 21st century.
The Passive House standard achieves these ends through a set of mandatory performance goals targeted at the building envelope. It is overseen by the Passive House Institute (PHI), the international organization with local chapters and certifiers in each country. In the United States, Passive House Institute US (PHIUS) also provides certification.
PHIUS severed ties with the international organization in 2011, primarily over concerns related to climate-related design and the influence climate has on the standard: PHI believes the standard can be applied globally with local knowledge and customized detailing, whereas PHIUS believes the standards must be flexible and adjusted to regional needs.
The standard put out by PHI has a global application, and it is the designer's job to customize the building envelope in relation to climate to achieve the standard's performance criteria. PHIUS, on the other hand, has developed PHIUS+ 2015: Passive Building Standard−North America, supported through a DOE grant that acknowledges a variety of climate zones across the United States. This standard modifies the required targets through a formula and includes cost-optimized performance options; metrics are provided for more than 1000 locations on the PHIUS guidance map, found on the organization's website.
Overview of the standards
This article refers to "Passive House" standards, but the references are more specifically those in the PHI program. Again, the major difference between that standard and the PHIUS one is the latter has localized goals, while the former is a single goal for all projects worldwide.
Either way, Passive House strictly looks at energy performance in parallel to thermal comfort. It is not a holistic green building approach such as the U.S. Green Building Council's (USGBC's) Leadership in Energy and Environmental Design (LEED) or the Building Research Establishment Environmental Assessment Methodology (BREEAM) programs found in the United Kingdom, which include standards related to water, transportation, materials, and other aspects. (In some cases, Passive House Certification is currently being adopted and accepted into these wider-reaching, third-party green building programs.) There are different paths for certification based on new construction versus renovation, each with their own set of target goals, but overall all certifications address the same categories for achieving energy efficiency.
The PH standard sets firm maximum targets in three categories:
total heating and cooling demand per area;
total energy demand (including lighting and appliances) per area; and
total air leakage.