by Adrian Thomas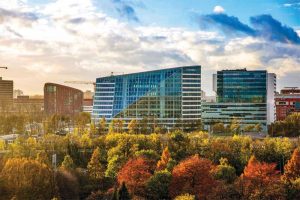 When Deloitte, a global professional services firm, set out to find a new building to house its Amsterdam office, it wanted one that would change the world, as well as comply with the European Union's (EU's) Energy Performance of Buildings Directive 2010/31/EU.
The result is the Edge, said to be one of the world's greenest and most efficient office buildings, with a Dutch Building Research Establishment Environmental Assessment Methodology (BREEAM-NL) sustainability rating of just over 98 percent, the highest ever awarded at the time. Deloitte's building employs the Internet of Things (IoT), or devices other than computers or smartphones that are connected to the Internet, to make every aspect of the structure smarter.
This technology helps make the experience inside this building unique. The Edge's sensors recognize each employee on arrival, and through a custom smartphone app, assign each person a workspace for the day based on their schedule. Its IoT-enabled lighting means each workstation can have custom light settings, which change for each employee based on their pre-determined preferences. The custom lighting panels are connected to 28,000 sensors throughout the building, monitoring motion, visible light, temperature, humidity, and infrared light.
PJP Architecture, which designed the Edge, said the combination of the mobile application and the building's architecture supports activity-based working: employees deliberately choose the location and ambience they want to work in for different tasks throughout the day.
In addition to possessing these smart capabilities, the Edge is a net-zero energy building. With the support of large-scale IoT systems, energy use is monitored and optimized in real time. Further, the building collects rainwater for internal plumbing fixtures and its solar panels generate 102 percent of the building's energy.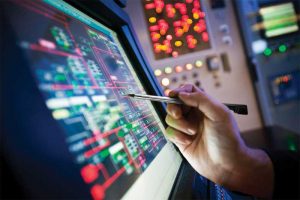 Positive employee experience—particularly the health, comfort, and productivity of Deloitte employees and other occupants—was one of the major goals when designing the Edge. Factoring this into the design process offered the opportunity to align several IoT-enabled systems not only to the building overall, but to actively benefit its occupants. With the use of these personalized, connected systems throughout the building, 72 percent of Deloitte employees working in the Edge said they enjoy having a sense of control over their environment.
The Edge can be an inspiration for architects looking to bring their building designs into the future. In addition to inspiring design and aesthetic, the Edge provides an example of successful data-management, interoperability, and future-proofing, and cybersecurity preparedness—three principal considerations when planning for IoT capability.
Trends impacting buildings
The current shift in how buildings are designed, built, and used is motivated by four predominant factors: urbanization, desire for lower energy use, sustainability, and IoT.
Urbanization
By the year 2050, the proportion of the world's population living in urban areas will increase from 54 to 66 percent. This is an increase of 2.5 billion people living in urban areas between 2014 and 2050. Existing cities will get bigger and denser, and there will be new ones evolving in less developed countries. Over the next 40 years, the world is expected to build 230 billion m2 (2476 billion sf) of new construction.
Electricity
These cities have one thing in common—they are made up of buildings, and these structures need electricity. Buildings represent 30 percent of global energy consumption and more than 55 percent of global electricity demand. Without action, energy demand from buildings could increase 30 percent
by 2060.